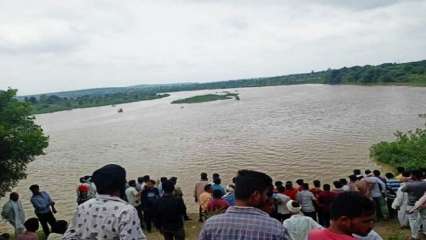 In a major accident in Maharashtra's Amravati, at least 11 people are feared dead after their boat capsized in the Wardha river. The bodies of three people have been pulled out while the search for eight is on. 
The incident occurred at around 10 a.m. when the boat was sailing to the opposite bank of the river near Shrikshetra Jhunjh, falling under the jurisdiction of Benoda Shaheed Police Station.
Hearing the cries for help, several villagers jumped into the river to save the people and alerted the local police.
After the incident in Gallegaon area of ​​Amravati, the police has reached the spot and a rescue operation is going on.
It is being said that the people sitting in the boat had come for tourism and the boat overturned due to imbalance. However, no victim has been identified yet. 
On getting information about the incident, local MLA Devendra reached there and took stock of the rescue operation.
Locals said that owing to heavy rains, the Wardha River has been swollen for the past one week in Wardha, Amravati, Chandrapur and Gadchiroli districts.
Though the exact cause of the mishap is not clear, villagers said it may have sunk as it was packed over its capacity and the victims may have been dragged away by the strong currents.
Earlier last week, there was a major boat accident in Assam, where two boats collided in the Jorhat river. After this, a boat capsized and more than 80 people aboard were drowned. Most of the people were saved in the accident. While some people themselves had come to the shore by swimming. One woman was killed in the accident, while many people went missing.

Courtesy – www.dnaindia.com