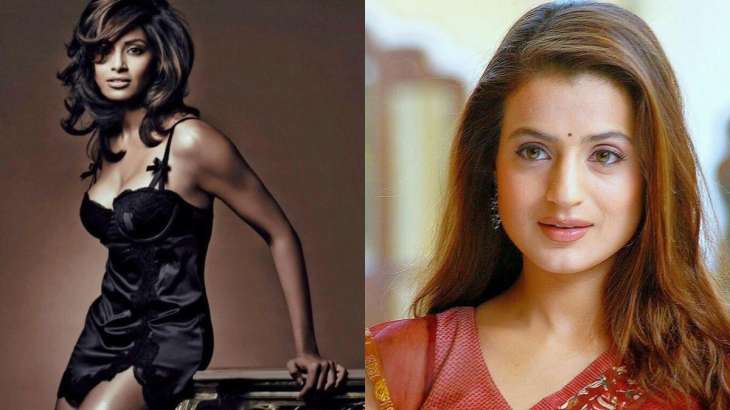 Ameesha Patel, who is currently promoting Gadar 2, is hogging headlines not just for her upcoming film but also past controversies. Earlier this month, Patel broke silence on the controversy over her comment on Bipasha Basu and why she would have never done a film like Jism. She said her comment was not in a bad taste against anyone.
It all started in 2005 when Bipasha Basu gave a befitting reply to Patel's comment about Jism on Karan Johar's show Koffee With Karan. Basu had said Patel was too petite, too small to carry, and her frame is wrong. For those unversed, Patel had said she would have never done a film like Jism and also body-shamed Bipasha over her 'big hips.'
In the viral video of Bipasha Basu in the Koffee With Karan episode, the actor said, "Ameesha does not possess a body that she can do a film like 'Jism'. I will never cast Ameesha in that film. She is too petite. For a film like Jism, a woman with a total package is needed. Not only the body, but you should also have personality. Her entire frame is wrong. She will not fit in Jism."
Cut to 2023, Ameesha Patel opened up about the controversy back in 2005. During an interview with Bollywood Hungama, the Gadar 2 actor said, "I still stand by what I say. I don't think Basic Instinct is a bad film. Sharon Stone is a goddess. Jism was a fantastic film with great music and great performances. All I am saying is why Bipasha? I am not comfortable being a Sharon Stone. I think it takes guts to be there, be bold physically. I can be called sexy and hot. Am I that comfortable with that amount of boldness and skin show on screen, I am not."
On the work front, Bipasha Basu is currently on a break from acting and enjoying motherhood with daughter Mishti. She was last seen in Welcome to New York. Meanwhile, Ameesha Patel is returning to the big screen with Sunny Deol for Gadar 2. 
Also Read: Meena Kumari biopic: Kriti Sanon to play Tragedy Queen in Manish Malhotra's film?




Courtesy – www.indiatvnews.com