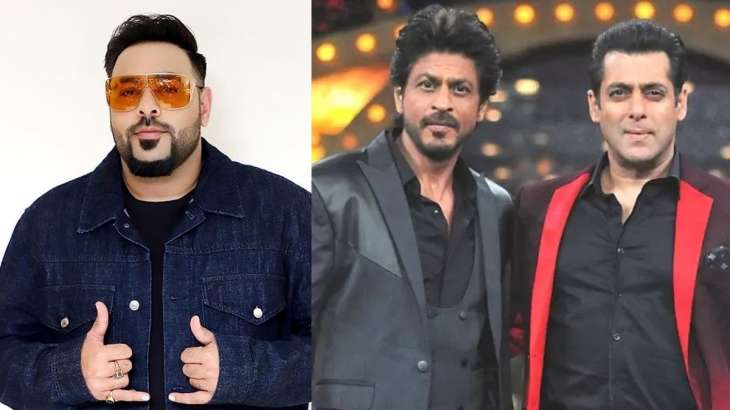 Rapper Badshah, who is known for songs like 'Jugnu', 'Abhi Toh Party Shuru Hui Hai', 'DJ Wale Babu' and several others, recently talked about meeting Salman Khan and Shah Rukh Khan after they had just patched up. The two superstars reportedly had a fallout, that went on for years. Talking about the same, the rapper revealed how SRK and Salman ended up treating him with biryani. 
Badshah on meeting Salman and Shah Rukh
The rapper shared that once his manager told him that SRK wants to meet him. When he reached there, he found Salman in the company of SRK as the two were busy sharing anecdotes with each other. Recalling it, Badshah recently told Raj Shamani in his podcast, "I met Shah Rukh Khan and Salman Khan at the backstage of an award show. I think they'd just had their patch up, apparently. I remember my manager telling me, 'Shah Rukh sir is calling you'. I went to meet him, Salman sir was also there. They were talking to each other, I was standing there looking at them. Later, food was served, and they fed me biryani. They were sharing anecdotes with each other, and I was listening to them. Then I had to leave."
Salman and Shah Rukh Khan's fallout
The two, who worked together in Karan Arjun, Kuch Kuch Hota Hai, Pathaan and others, reportedly had a publicised fallout that originated from an incident at Katrina Kaif's birthday party in 2008. According to IANS, The rivalry between the two Khans polarised the entire Hindi film industry for five years as the industry insiders took sides depending on the proximity to either of the superstars. SRK and Salman remained distant for years until they patched up at an iftar party in 2013.
Meanhwile, Shah Rukh Khan and Salman were recently seen together in Sidharth Anand's Pathaan. In the film, Salman made a special cameo as 'Tiger'. Also, they will be seen together in Salman's upcoming Tiger 3. Confirming the same, Shah Rukh had said, "Last two years were fantastic because I got to be in one of his films. He came in Zero and did a song with me and, now in Pathaan, and I don't know if it's a secret, but I will try to be in Tiger also."
ALSO READ: Badshah opens up about his conflict with Honey Singh; claims latter made him sign blank contracts




Courtesy – www.indiatvnews.com