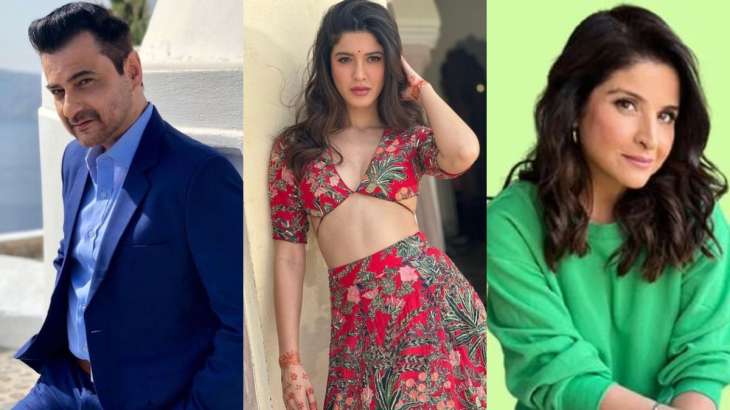 Sanjay Kapoor and Maheep Kapoor's daughter Shanaya Kapoor is hitting headlines as she bagged her first pan-India film opposite legendary Mohanlal. From Karan Johar to Ekta Kapoor to Anil Kapoor, the film fraternity couldn't stop but send congratulatory wishes to the 23-year-old. It all looks like a paradise from the outside, however, there was a time when Sanjay Kapoor and Maheep Kapoor's marriage life turned upside down following which the latter had to leave with Shanaya.
Maheep Kapoor spilled the tea in the Netflix show, Fabulous Lives with Bollywood Wives. In a conversation with Seema Sajdeh, Maheed revealed that there was an indiscretion that Sanjay Kapoor had which left her with no choice but walk out with Shanaya. However, she stood up for herself and her kids Shanaya and Jahaan. Maheep further said her first priority was her kids and she owed her daughter the amazing father, Sanjay. 
Maheep went on and said she would have regretted it all her life if she had broken up with Sanjay back then. She also wanted her marriage to work at any cost.
"What happened (happened) 100 years ago, of course. And I want to tell you that for me, I am grateful that we moved (on)… Marriage is shades of grey. I know that for him, marriage is lifelong," Maheep said. "Forgiveness? We have both forgiven each other at many stages in our lives. I have been a royal f**king b**ch. He had wanted to stab me many times. We have grown through this journey and we've come out stronger," she added.
Reacting to the same, Anil Kapoor shared his take on infidelity on Koffee With Karan Show. The actor had said he is very sincere and honest.
Sanjay Kapoor and Maheep Kapoor have been married for more than 20 years now. The couple tied the knot in 1997. Sanjay fell in love with Maheep shortly after his break up with Sushmita Sen.
Also Read: Anil Kapoor hails his brother's daughter Shanaya Kapoor for bagging project with Mohanlal




Courtesy – www.indiatvnews.com