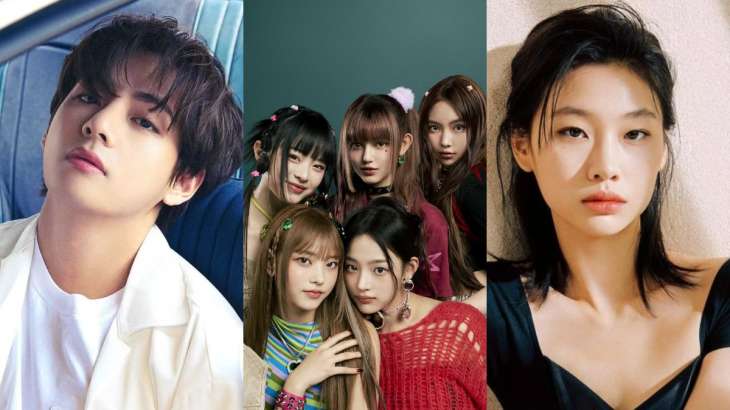 BTS V and Jung Ho Yeon from Squid Game will reportedly be making an appearance in New Jeans' music video. ADOR announced the release date of New Jeans' Cool With You which will have two versions and according to the agency two global stars will appear in the music video. 
A netizen visited Madrid and found out that BTS' V and New Jeans were spotted at a restaurant together for three days in a row. Other netizens found that Jung Ho Yeon was spotted filming with New Jeans in Spain. This led to the assumption that he might appear in one of the music videos of New Jeans.
The owner of the restaurant revealed that BTS member V and New Jeans came to the restaurant three days in a row before the netizen visited it. 
Fans got excited when Minji and Hanni, members of New Jeans, appeared in the Permission to Dance music video of BTS and they would love to see V in their video as well. However, nothing has been confirmed by HYBE LABELS or Jung Ho Yeon's agency.
New Jeans is currently busy with the promotion of their upcoming albums in full swing. The girl group has already one of the little tracks Super Shy, and B-side track New Jeans on July 7. They are preparing to release music videos for the songs in their upcoming album Get Up. Cool with You is one of the tracks that will be released on July 20th.
New Jeans is a South Korean girl group formed by ADOR. The group consists of five members, Minji, Hanni, Danielle, Haerin, and Hyein. New Jeans rose to prominence upon their debut in 2022 with their girl-next-door image and easy-listening pop and R&B songs inspired by the music of the 1990s.
They debuted in July 2022 with the single Attention, their first number-one song on South Korea's Circle Digital Chart. It was followed shortly afterward by two other singles, Hype Boy and Cookie. The singles were all featured on their eponymous debut extended play, released in August 2022. In January 2023, they released their first single album, OMG to commercial success. It was accompanied by two singles, Ditto and OMG. Ditto gained widespread popularity, becoming the longest-running number-one song.




Courtesy – www.indiatvnews.com