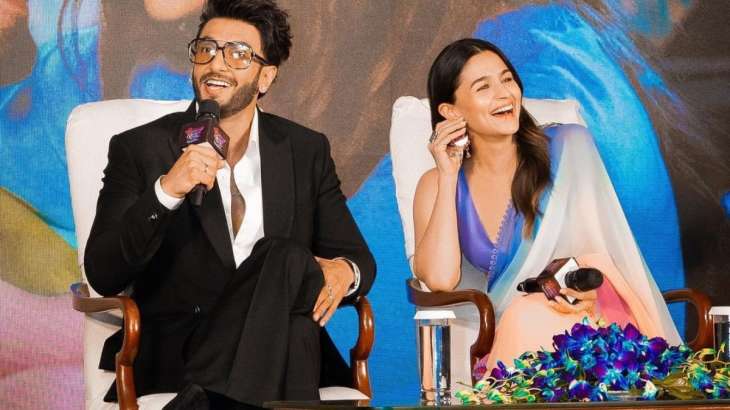 Rocky Aur Rani Kii Prem Kahaani is the "Karan Johar-est" film of the director's career, said actor Ranveer Singh, stressing that the upcoming movie brings back the feel of 'Kabhi Khushi Kabhie Gham,' that marked his initial journey in filmmaking. With RRKPK, Karan is returning to direction after 2016's 'Ae Dil Hai Mushkil'. The film starring Alia Bhatt and Ranveer in the lead, will be released on the 25th anniversary year of the filmmaker's career.
Ranveer Singh on RRKPK
Talking about the film, Ranveer said the film is a quintessential Karan Johar movie and has all the elements that made him popular. "This is Karan Johar's 'Karan Johar-est film'. This brings back the feel of 'Kabhi Khushi Kabhie Gham. It was a very concerted and deliberate effort. Karan Johar is bringing back that type of cinema that we grew up watching on the big screen. It has been such a big part of our lives," the 38-year-old actor said.
To a whole generation, Karan's 'Kuch Kuch Hota Hai' and 'Kabhi Khushi Kabhie Gham' are nothing short of 'cult classics', Ranveersaid. "These movies form an integral part of our growing up years. nSo this film has all those qualities of 'Kabhi Khushi Kabhie Gham.' — the family, songs, happiness, joy. "I believe this is a film that will make people really happy. They would have a smile on their face and a feeling of warmth in their hearts," he added.
Further, Ranveer claimed the family drama has a heavy dose of humour. "In Karan's own words, this is probably the most humorous film. There is a generous amount of humour throughout the film and because of that, the vibe and energy on set (was great). Karan himself is a born entertainer, always cracking jokes. So it was zany, fun. I would wake up and look forward to going to the set everyday. It was like a bunch of friends coming together and making a movie. It is important to have that energy on the set, it transferred to the film as well," he said.
Alia Bhatt's statement
Alia said 'Rocky Aur Rani' is a movie that celebrates the diverse culture of India. "It is a very different film and space. I think the beauty of our country is that we are so rich in culture. You always get that feeling when you represent opposing cultures, like north India and Bengal here. That combination is fun to see because it is very rich in culture, colourful and there are so many dynamics that come into play," she said.
The atmosphere on the film's set was light and funny, said Alia. "Ranveer, Karan and I, we are very instinctive. We like to go with the flow and we like to be surprised. We don't like to over-rehearse. We like to be in the moment and focus on that. Of course, the blueprint of the script that we have in our minds doesn't move. (But) we used to have a lot of fun and not take ourselves too seriously. We would work really hard and give our 100 per cent every day. But the energy on the set was never serious, even when we shot serious scenes," she added.
About Rocky Aur Rani Prem Kahaani 
Rocky Aur Rani Prem Kahani also stars Dharmendra, Jaya Bachchan, and Shabana Azmi. It is scheduled to release in the theatres on July 28. The trailer showcased Ranveer Singh as Rocky Randhawa with Dharmendra and Jaya Bachchan among his family members and Alia as Rani Chatterjee with Shabana Azmi as her grandmother. They are shown as coming from very different backgrounds, with Ranveer coming across as a rich man who doesn't even know that West Bengal is not in the West but in the East. Alia is shown to be coming from a Bengali household where knowledge and intelligence are valued above everything else. They swap their places and decide to live with each other families to impress them.




Courtesy – www.indiatvnews.com