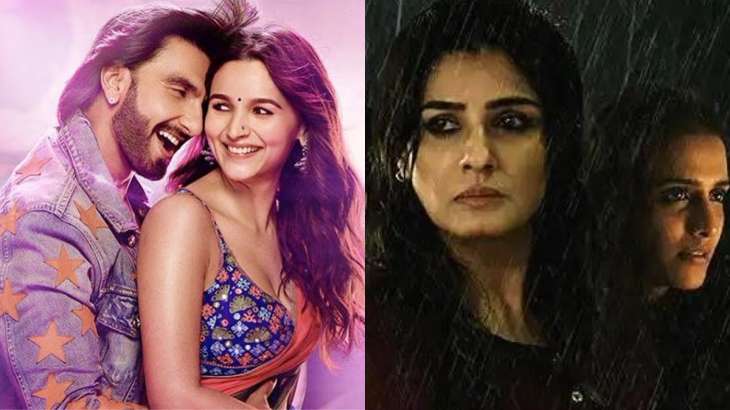 Friday Releases: Karan Johar is back at the director's chair with Alia Bhatt and Ranveer Singh starrer Rocky Aur Rani Kii Prem Kahaani. The film is billed as a romantic drama with a slice of family drama. For the OTT, we have a must-watch array of multi-genre content which includes an investigative crime drama to romantic story and gripping thriller. Raveena Tandon and Milind Soman's 'One Friday Night', which explores the complexities of relationships, is also dropping today. 
Rocky Aur Rani Kii Prem Kahaani
The film starring Alia Bhatt and Ranveer Singh is billed as a romantic drama. Backed by Karan Johar's Dharma Productions, Rocky Aur Rani Kii Prem Kahaani follows the love story of Rocky Randhawa and Rani Chatterjee with a hint of family drama. The film also stars veteran actors Jaya Bachchan, Dharmendra, and Shabana Azmi. The makers have successfully created hype around the film by releasing three songs—Tum Kya Mile, What Jhoomka, and Ve Kamleya, crooned by Arijit Singh, Darshan Raval, Bhoomi Trivedi, Shreya Ghoshal, Altamash Faridi, Pritam, and others.The film is releasing in theatres on July 28. 
One Friday Night
Starring Raveena Tandon, Milind Soman, and Vidhi Chitalia, the OTT release is a gripping thriller that promises an evening of romance, betrayal and suspense! This riveting drama explores the complexities of relationships, secrets, and the unexpected turns life can take. It centres around Ram, an affluent man who finds himself entangled in an affair with Niru, a woman half his age. Their secret rendezvous in a clandestine love nest takes an unforeseen turn when a life-altering accident leaves Ram severely injured, and in dire need of medical attention.
With no other options available, Niru is forced to make a fateful decision — to reach out to Ram's unsuspecting wife, Lata. What happens thereafter is a total rollercoaster. Presented by Jio Studios, produced by Jyoti Deshpande and Manish Trehan, the film is directed by Manish Gupta. It is slated for a digital premiere on July 28 on JioCinema.
Good Omen Season 2
Season Two of 'Good Omens' explore storylines that go beyond the original source material to illuminate the uncanny friendship between Aziraphale, a fussy angel and rare book dealer, and the fast-living demon Crowley. Having been on Earth since The Beginning, and with the Apocalypse thwarted, Aziraphale and Crowley are getting back to easy living amongst mortals in London's Soho when an unexpected messenger presents a surprising mystery. It stars Michael Sheen and David Tennant as angel Aziraphale and demon Crowley, respectively. It is releasing on Amazon Prime Video.
The Tailor Season 2
In the second season of The Tailor, Peyami faces new challenges as he returns to the show. It is releasing today (July 28) on Netflix. Brace yourself for a tale of friendship, love, and hidden skeletons in the closet. The spotlight shines on a renowned tailor who embarks on a daunting mission to sew a magnificent wedding dress for his best friend's bride-to-be. Little do they know, their seemingly picture-perfect lives are about to be unraveled by the shocking secrets they each harbor.




Courtesy – www.indiatvnews.com