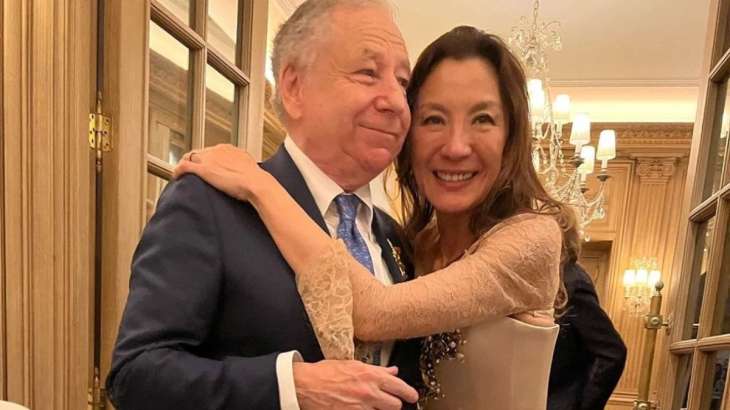 Michelle Yeoh and her partner of 19 years, former Ferrari CEO Jean Todt, have finally tied the knot in a private ceremony. 
The news comes after Portuguese racing driver Felipe Maasa shared the couple's wedding announcement as well as some pictures of the ceremony in an Instagram post. Massa also shared a selfie with the happy couple, while holding Yeoh's gold Oscar statuette, which she was awarded earlier this year for Best Actress for her role in Everything Everywhere All at Once.
Another photo showed Yeoh beaming at the camera while embracing Todt. The last picture in Massa's post showed the couple standing at a table and surrounded by their witnesses as they prepared to sign the legal marriage document.
In the images, Yeoh is wearing two different outfits. One bridal look featured a white silk button-up shirt with a tiered lace skirt, while the other was a champagne-colored corset with embellishment on the front, worn over a lace long-sleeved top and skirt.
The expected but low-key wedding ceremony took place in Geneva, where Yeoh and Todt celebrated their love surrounded by friends and family. The couple met in Shanghai on 4 June 2004. On 26 July 2004, Jean Todt proposed to marry Michelle Yeoh and finally, she said yes. Yeoh became the first Asian actor and Malaysian to win an Oscar in March, beating out fellow nominees Cate Blanchett, Ana de Armas, Andrea Riseborough, and Michelle Williams.
"This is actually a historical moment, and I have to thank the Academy for acknowledging, embracing diversity and true representation," Yeoh told reporters after her big win. 
She was previously married to Hong Kong business magnate Dickson Poon from 1988 to 1991 and left the acting industry to try and start a family with him. However, they did not have any children together and divorced.




Courtesy – www.indiatvnews.com