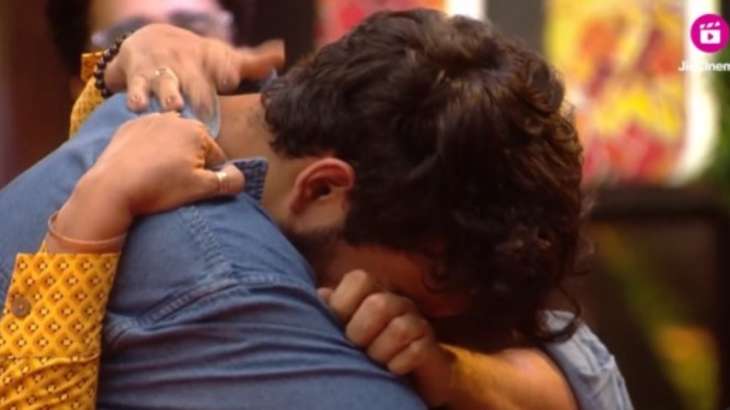 Bigg Boss OTT 2 is one of the most-watched shows on JioCinema. Hosted by Salman Khan, the reality show is inching toward its finale week with just two weeks left for the contestants to buckle up and impress their fans. Continuing their legacy, Bigg Boss makers are back with Family Week which left the inmates teary-eyed. After Avinash Sachdev, Abhishek Malhan's mother entered the house and helps the 'Social Media Gang' patch things up with Bebika Dhurve.
In a viral clip, Malhan's mother can be seen asking his son, Manisha Rani, Elvish Yadav, and Bebika Dhurve for a group hug. She further said Bebika is a nice girl and she should remain like this. Following this, Malhan said "Mummy, main toh aapka fan ho gya." 
Watch the viral video:
Soon after the clip went viral on Twitter, fans couldn't help but celebrate it. One user wrote, "Aunty Kitni Cute Hai Na His Way To Talk Are So Sweet." Another user wrote, "She has already spread some positivity inside istg." Yet another fan wrote, "Kitni pyari h dimple aunty."
Check out Twitter reactions here:
In the promo video, Malhan can be seen meeting everyone inside the house and giving them compliments. She also mentions Dhurve's tiff with her son and how the audience is loving it. Further, Avinash Sachev's mother and Manisha Rani's father will also enter the house. The contestants, in the promo, can be seen breaking down after meeting their family members. 
Bigg Boss OTT 2 started with 12 contestants and will announce its winner in August. This week, the nominated contestants are Manisha Rani, Avinash Sachev, Jad Hadid, and Jiya Shankar. Bebika Dhurve, Pooja Bhatt, Abhishek Malhan, Elvish Yadav, and Bebika Dhurve entered the finale round by getting safe from nomination this week. 
Also Read: Bigg Boss OTT 2: Jad Hadid in tears seeing 4-year-old daughter during family week | WATCH




Courtesy – www.indiatvnews.com