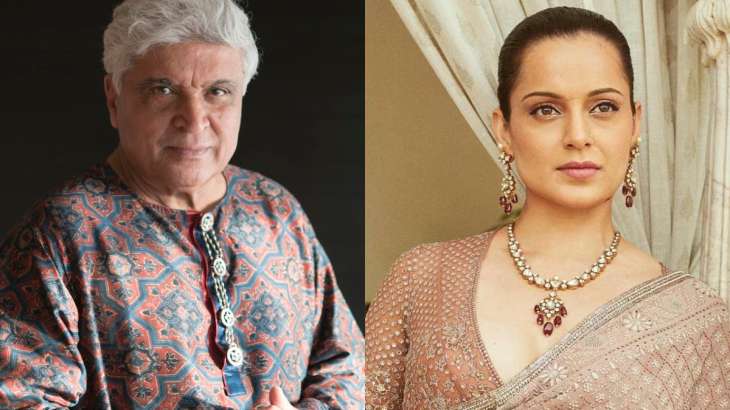 Bollywood lyricist Javed Akhtar has moved to the Mumbai Sessions Court, challenging the Andheri Magistrate court's order of issuing summons against him in response to a complaint filed by actor Kangana Ranaut. He was summoned in a complaint filed by Kangana which includes allegations of criminal intimidation (Section 506)and insulting the modesty of a woman (Section 509) under the IPC. His plea emphasises that subjecting him to trial in a time-barred matter would cause serious prejudice to his rights. 
The Dindoshi Sessions Court is set to hear the plea on August 8, while the Magistrate court has summoned Javed Akhtar on August 5.
Kangana's complaint
Kangana Ranaut had filed a complaint against Akhtar for alleged "extortion and criminal intimidation". The court, while issuing summons, said no case of extortion was made out against the lyricist. Asking a person to give a written apology will not come under the definition of "valuable security" as defined under section 30 of the Indian Penal Code (IPC) because no legal right is created, extended, transferred, restricted, extinguished or released," it said.
"…the complainant (Ranaut) even though levelled charges for offences punishable under section 383, 384 and 387 of IPC for committing extortion and putting person in fear of death or of grievous hurt in order to commit extortion, it appears that, no case is made out against the accused for the aforesaid offences…" the court said.
"As far as other offences levelled against the accused are concerned, on the basis of averments in the complaint, verification of the complainant and statement of her (Kangana's) sister Rangoli Chandel," the court added. "I have come to the conclusion that there are sufficient grounds to proceed against the accused for offence under IPC section 506 (criminal intimidation) and 509 (gestures or acts intended to insult the modesty of a woman)," it further added. 
In 2020, Javed Akhtar had filed a complaint against Kangana Ranaut, claiming that she had made defamatory statements against him in a television interview, which allegedly damaged his reputation. In his complaint, he claimed that Kangana dragged his name during an interview while referring to a 'coterie' existing in Bollywood, following the alleged suicide by actor Sushant Singh Rajput.
Later, Kangana Ranaut filed a counter-complaint in the same court against Javed Akhtar for alleged "extortion and criminal intimidation". The actress in her complaint against Javed Akhtar said that following her public dispute with her co-star, the lyricist had called her and her sister Rangoli Chandel to his house with "malafide intentions and ulterior motives and then criminally intimidated and threatened" her.
ALSO READ: Sufficient grounds to proceed against Javed Akhtar for criminal intimidation offence: Court on Kangana plaint




Courtesy – www.indiatvnews.com