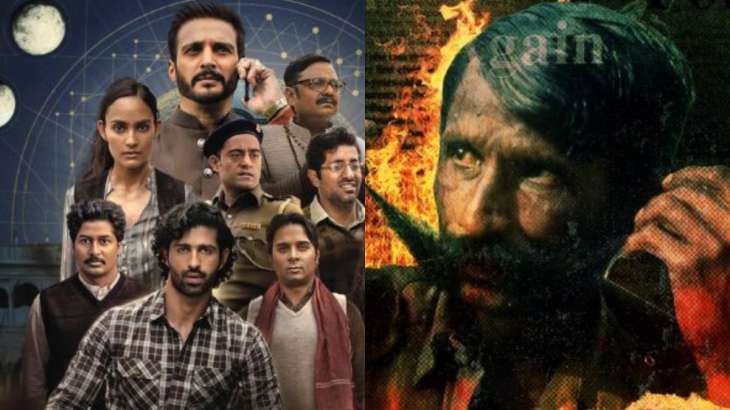 OTT releases this August: Get ready for an exciting entertainment extravaganza in the first week of August 2023. With the action, drama, and romance stories, there are numerous possibilities for binge-watching series on the OTT platforms. From biographical true-crime docu-series to international Emmy-nominated series thriller to climate fiction (cli-fi), OTT platforms like Netflix, Prime Video, Disney+Hotstar, and ShemarooMe have a thrilling lineup of content. From gripping series like Dayaa and Choona to Made in Heaven 2 and The Hunt for Veerappan, there's something enthralling for everyone. 
Let's take a look:
Guardians of the Galaxy Vol. 3
In Marvel Studios' Guardians of the Galaxy Vol. 3, our cherished ragtag crew sports new looks while grappling with the loss of Gamora. Leading the charge, Peter Quill calls upon his squad to defend the universe and safeguard a fellow Guardian. The weight of this mission looms large, as failure could spell doom for the team and beyond. Together, they must stand united, embarking on a perilous journey to protect what they hold dear. As they face formidable challenges, their bond grows stronger, exemplifying the true essence of the Guardians' resilience and heroism. 
Platform: Disney+ Hotstar
Poisoned: The Dirty Truth About Your Food 
In Poisoned: The Dirty Truth About Your Food, a powerful exposé uncovers the harsh reality of the food industry and its oversight. It lays bare the consequences of decades of neglect and malpractice, leaving the American food supply and its consumers defenseless against deadly infections such as E. Coli and salmonella. The series serves as a scathing indictment, shedding light on the indifference and wrongdoing that have jeopardized public health. With a compelling narrative, it highlights the urgent need for reform and accountability to ensure a safer and healthier future for all.
Platform: Netflix
Kutch Express
The story of Kutch Express revolves around Monghi (Mansi Parekh), a simple homemaker from Kutch, who believes she has a perfect marriage. However, her world takes a dramatic twist when her husband's secret affair threatens their family's happiness. Determined to protect their loved ones, Monghi teams up with her strong mother-in-law (Ratna Pathak Shah), and together, they embark on an emotional journey filled with unexpected twists and turns. This ultimate family entertainer explores unique relationships and the special bonds between a mother-in-law and daughter-in-law, and a son that encourages his mother to pursue her dreams and live her life to the fullest, while highlighting the significance of women empowerment. With a stellar ensemble cast also including Dharmendra Gohil, Viraf Patell, Darsheel Safary, and others, 'Kutch Express' promises an unforgettable cinematic experience, taking you on a profound journey through love, resilience, and the pursuit of identity.
Platform: ShemrooMe
Choona 
In the shadows, an unlikely collection of misfits assembles, brought together by a common nemesis—ruthless and superstitious in politics. They unite, devising a daring heist to confront this foe, whose influence breeds disdain. Each member possesses their peculiar traits, and though unlikable, they complement one another in their shared goal. With cunning minds and a touch of quirk, destiny beckons this motley crew to embark on their audacious journey. Their target remains elusive, but their determination binds them tightly. Watch them on screen as their fate intertwines their lives, as they stand ready to execute their plan and alter the political landscape forever.
Platform: Netflix
Dayaa 
In the gripping tale of Dayaa, a simple freezer van driver finds his world upended as he stumbles upon a lifeless body within his vehicle. This shocking discovery thrusts him and his loyal best friend into a whirlwind of escalating peril. With each twist of fate, they become entangled in a web of danger, unsure of who to trust and what lies ahead. As the mysteries deepen, the protagonist must navigate a treacherous path, confronting his fears and grappling with unforeseen consequences. The journey ahead promises no respite, as their bond is tested, and they must summon every ounce of wit and courage to survive the trials that fate has thrown upon them.
Platform: DisneyPlus Hotstar
Fatafati 
In a small village, lives Phullora Bhaduri, a talented tailor aspiring to make her mark in the fashion world. However, her dreams are dampened by weight-related mockery she endures. Undeterred, she bravely ventures to overcome society's prejudices and pursue her passion, stitching her heart into every creation. As she defies expectations, Phullora discovers inner strength, embracing her uniqueness and turning it into her power. Along her journey, she faces challenges and supporters alike, but will her unwavering belief in her abilities drive her forward? Through resilience and artistry, will she conquer the fashion world and become an inspiration for those fighting against adversity to achieve their dreams?
Platform: Sony Liv
Date: 04 August, 2023 
The Hunt for Veerappan
Veerappan, a notorious poacher, unleashed chaos in the South Indian forests, triggering India's most extensive manhunt. His reign of terror spread far and wide, leaving authorities and communities in relentless pursuit. As he skillfully evades capture, fear gripped the region, and the search intensified to bring him to justice. With a reputation for cunning tactics and a deep understanding of the wilderness, Veerappan posed a formidable challenge for law enforcement. The hunt for this elusive outlaw became a gripping tale of determination, pushing the limits of human resilience in the quest for peace and safety in the dense jungles. 
Platform: Netflix
Date: 04 August, 2023 




Courtesy – www.indiatvnews.com