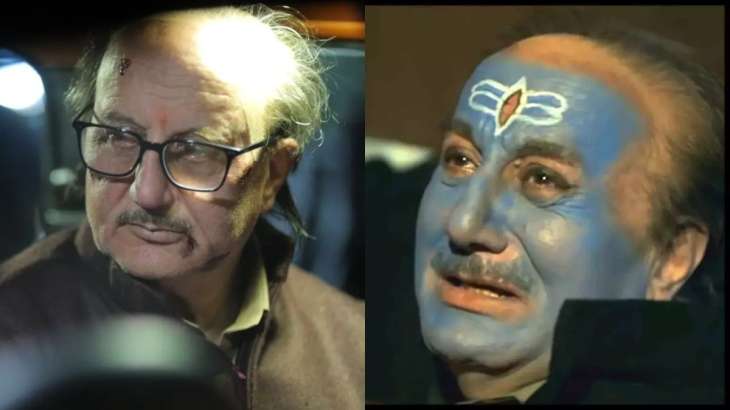 Terming The Kashmir Files an 'internal truth', veteran actor Anupam Kher said there should not be any problem in speaking what is right. During an event, the actor was asked to comment on how the 2022 film was unfairly criticised by a section of society. In his response, Kher said, "'The Kashmir Files' is our internal truth. I talk candidly and I do that because there should not be any problem in telling the truth.There is end to truth. There is no interpretation of truth."
The 68-year-old said filmmakers often try to play to the gallery to please others, something he believes should not be done. "Don't try to be popular with the whole world. First be popular with yourself. If you're not popular with yourself, there is something wrong with you. We often try to make something (film) wondering 'Will the others like it?' No, what is important is if I like it or not ," he added.
The Kashmir Files, directed by Vivek Agnihotri, depicts the exodus of the Kashmiri Pandit community from the Kashmir Valley in the 1990s. It emerged as one of last year's biggest Hindi hits of with reported earnings of over Rs 200 crore but was also tagged a 'propaganda' film.
ALSO READ: All about Manoj Bajpayee's Joram, which won Best Cinematography award at Durban International Film Festival
About 'The Kashmir Files'
The film, featuring Anupam Kher, Pallavi Joshi, Mithun Chakraborty and Darshan Kumar, was released theatrically in March, last year. Based on the life of Kashmiri pandits during the 1990 Kashmir insurgency, the film is on first-generation video interviews of victims of the Kashmiri massacre, making an account of their pain, suffering, struggle and trauma. The film ended the drought at the ticket window and broke many box office records. 
Now, Agnihotri is showcasing the conversations with historians, experts, real-life victims, and their families including experts like Dr Meenakshi Jain who was conferred with the Padma Shri award in 2020 for her work in the field of literature and education; Rakesh K Kaul who is the author of bestsellers 'The Last Queen of Kashmir' and 'Dawn: The Warrior Princess of Kashmir'; Shesh Paul Vaid – the former Director General of Police of J&K; Manoj Raghuvanshi – ex-TV journalist and the first journalist to do a lead story on terrorism erupting in Kashmir in July 1989; Dr Tej Tikoo – Retired Colonel and veteran of 1971 Indo-Pak war and the author of 'Kashmir: Its Aborigines and their Exodus' among others, through his upcoming series The Kashmir Files Unreported.
ALSO READ: Kajol RECALLS rejecting offer from Mani Ratnam for Karan Johar's Kuch Kuch Hota Hai: 'Things didn't work…'




Courtesy – www.indiatvnews.com