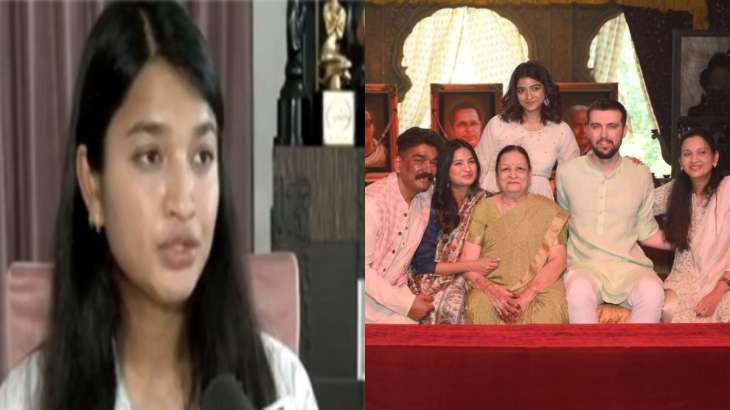 The suicide of renowned art director Nitin Desai came as a shock to everyone in the film industry. His sudden demise also brought grief to his family and their close ones. His mortal remains were cremated on Friday and the funeral was attended by several known faces of Hindi and Marathi film fraternity. His daughter Mansi Desai on Saturday in an exclusive conversation with news agency ANI talked about the loan her father took from the finance company. She also spoke about how the film industry was badly affected due to the pandemic hit the world but her father left no stone unturned in negotiating with the company.
She said "I would like to make a statement on behalf of my mother and my entire family to my father (Nitin Desai) who left us. The purpose behind the statement is to prevent people from spreading misinformation and to put forth the truth. The loan amount taken by my father was 181 crores out of which he repaid 86.31 crores. All payments were made by February 2020. They also demanded six months advance interest payment which my father had given by selling his office in Powai." 
Also Read: Nitin Desai suicide case – Police summon Edelweiss company's MD, ask to appear with loan documents
She further said that her father had no intention of cheating anyone and was making the payments on time. Talking about the Covid pandemic and how it affected her father's work, she said, "In 2020, the whole world came to a standstill due to Covid, and the Bollywood industry was badly affected. Because of this there was no work and the studio was closed so he could not make his regular payments he got delayed but before that, he paid all the repayments. Even after that he repeatedly tried to meet the finance company, the lending company to negotiate with him, for restructuring or some help or for a one-time settlement or levy in payment."
Also Read: When Kumar Sanu fan cycled 1,200 km to meet the legendary singer
In the end, she alleged that the company gave her father false assurance and initiated legal proceedings. She also requested the media not to use any derogatory statements against him. She even made an appeal to the Maharashtra government and said "I appeal to the state government to take charge of ND studio and give them justice."
Earlier today, the Raigarh police summoned Edelweiss company's Managing Director (MD) to appear at the Khalapur police station in Raigarh on Tuesday. 




Courtesy – www.indiatvnews.com