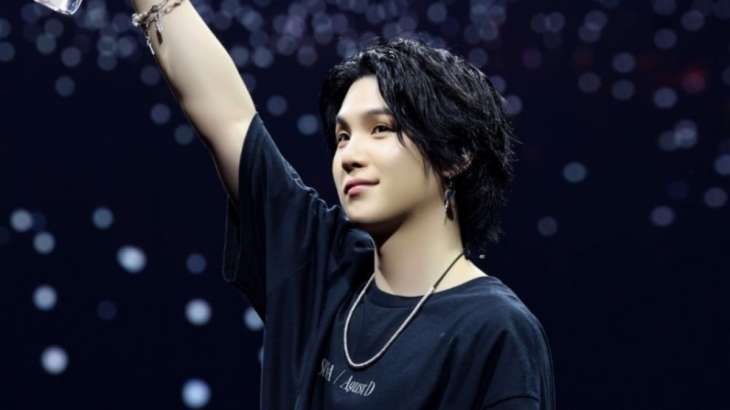 A day after concluding his D-Day concert, BTS member Suga announced his plans for military enlistment. Taking to Weverse, BTS agency BIGHIT Music shared a post. It is said that Suga started the process by applying for the termination of his enlistment postponement. The statement read, "Hello, This is BigHit Music. We would like to inform our fans that Suga has initiated the military enlistment process by applying for the termination of his enlistment postponement. We will inform you of further dates in due course." The agency also added, "We ask you for your continued love and support for Suga until he completes his military service and safely returns. Our company will spare no effort in providing support for our artists. Thank you".
At his concert, Suga was seen crying while performing. He later took to Weverse and held a live session. Suga said, "I really am not the type to cry, but staring at Snoose, I felt it. The members were there and my sunbaenims came too. Before I had dreams while watching many sunbaenims and now I have become someone's sunbae. And those 10 years flew past me. And that's when the tears came".
He hinted that the Seoul concert was his last performance on stage. He also talked about getting reunited with the other BTS members RM, Jin, J-Hope, Jimin, V, and Jungkook in 2025. "If I say soon that feels like a lie. So, let's see each other again in 2025. All right? Please wait a bit. 2025, let's see each other. You did great. Bye!"
For the unversed, under South Korean law, all able-bodied male citizens are to serve for 18-21 months by the age of 28. The BTS members comprising Jin, Suga, J-Hope, RM, Jimin V, and Jungkook had previously been granted exemptions to defer their enlistments until they turned 30 after receiving an Order of Cultural Merit in 2018 by then President Moon Jae-in.




Courtesy – www.indiatvnews.com