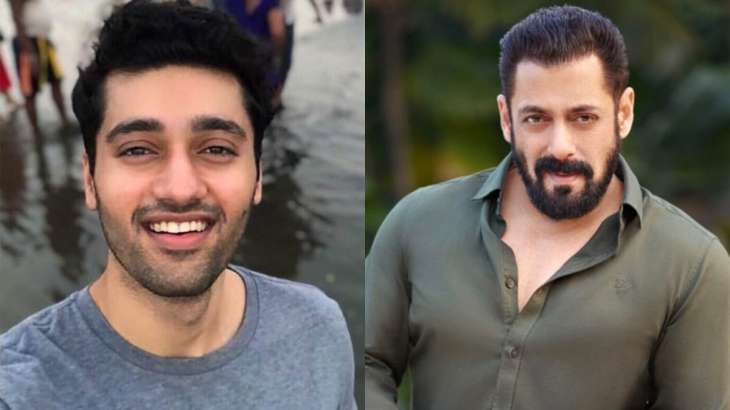 Gadar 2 actor Utkarsh had a special conversation with India TV. 22 years have passed, and now this thing has grown up while living, and your beloved has now become a hero. He spoke at length about the film, and his experience of working with stars Sunny Deol, and Ameesha Patel.
Utkarsh: Thank you.
Question: You are the only actor who has worked as a child artist and as an adult in one film.
Utkarsh: Yes.
Question: It is said that because of Ameesha Patel, you came to Gadar.
Utkarsh: Yes, your favorite 'Madam Ji' used to come home during Gadar One for her costume trials and dialogues rehearsals, and scene rehearsals. I always used to play with her, used to caress, and used to wait for her to come home. The child was not being found, so he only suggested that why don't you take Utkarsh and I will also accept that my son was very kind. And in our place, Qureshi ji could see the problem getting smoothed out that Anil ji yes! If you take your son, then whatever stunts you want to get done, whatever nights you want to work, get them done. So no production wise everything will be smooth and there will be no issue of date.
Question: And today after 22 years she is ready to become the mother of a 27-year-old son.
Utkarsh: The character is younger than her, 20, 22 years old but yes she is an actor, and everything is seen as a performance. And very grateful to have worked with him.
Question: Utkarsh then faced the camera and you have also worked behind the camera in Veer. I heard an anecdote that you had broken Salman Khan's nose.
Utkarsh: Todi nahi thi maine, baat ka batangad bana diya hai kya hua ki naya tha, let's start with a clap on the set for newcomers in the film industry. I didn't know anything about mine. The clapper boy used to speak for himself. There have been many co-accidents in my life, many coincidences have happened and I have forgotten. This time also it happened that they were shooting in London for 'Veer' and I was unable to get an AD visa I was worried that my summer vacations were going on with my father. Again I saw trouble and If I said that I will AD you, who will take care of you there was no one with him, so I thought that I will pick up his bag, then I went with him and everyone on the set was saying do this, do that. Although I had seen the set many times it did not work, then the experience was new, Salman was sir and there was a tele shot, I did not know where to put the clap, I had to keep it near his face, so I was going to write like this. That you kept doing it like this in Focus Naya Focus and Salman was looking down on his head, remembering your dialogues. Ok, so-and-so take action. And his nose was wrinkling through it His makeup man gave me the look but he didn't give me the look He laughed And it wasn't that! And the same joke goes on with them as well and I was made a scapegoat a lot. Salman sir is very sweet with children and very sweet anyway. If Salman sir had to be called on the set, I used to go, call him in his van and not see his bodyguards, used to go and say that the director is calling, so what is your father? So they used to come.
Question: You always came forward to help your father and you learned a lot from him.
Utkarsh: Yes, of course, I learned a lot. I think some things are written and they happen even without thinking about it. In such a life, co-incidents keep happening, and who knows how many more incidents will happen in the future.
Question: You have worked with your father as a child as well as as an AD. So what is such director Anil Sharma for you? And what about you as a father?
Utkarsh: His nature is very workaholic.
Question: Are you?
Utkarsh: I am too but maybe not as much as him and I also want to be like him and he also says that he has attachment, he has so many experiences. There are as many directors at home as there are on the set. Because his characters keep running in his mind. So whenever suddenly I am playing something or eating something, then it will be said that you thought about that scene, I will say which scene? So is the Captain of the Ship. So they remain more involved, being with them, I have also understood a little bit that we definitely have professional boundaries on set. He is a director, I am an actor. There is no special treatment, there is no van, there is no special chair for me, nothing. Nothing extra, he is creatively totally open in terms of script, bring whatever you want to the set, do whatever you want to discuss. Sunny sir is also like this. I don't interfere with anyone, as an actor, I keep the same boundary as my character feels.
Question: What is the reason to be afraid of Sunny Deol?
Utkarsh: Hey, he has a hand of two and a half kilos, that is one hand, the other hand is of five kilos, so more than that, he is a professional. So when they come on the set, they expect everyone to be ready for the scene. Because he himself also comes prepared. And live in your character, live in your emotions. So what used to happen was that if there was an early morning suit, then half of the unit is that someone is playing flute, someone is sleeping, someone is sleeping secretly, someone is sleeping behind the van, as soon as Sunny Sir comes, then all this They are dead, they all wake up and start doing all the work in a hurry, they do as much work as they do not do in the whole day, in these four to five minutes and they understand that the service is too much, a relationship is respect, respect for them. It is for her that we also remember the actress who is there, in her presence and whenever she comes to the sector till the last scene, we all stand up. But in front of the camera, you do not feel high and low, whether you are a young star, whether you are senior or junior, it does not matter, there is a team in front of the camera.
Question: You are taking that legacy forward and your character is very new, it is a new story and you say that itni chichde karega, itni chichde karega, you say with a lot of confidence, so taking it forward is very responsible. There is work.
Answer: Especially the character of Jeete which we have done in Gadar 1 that the child can do anything for the family, and what he has seen when he went to Pakistan at such a young age with his father for his mother. So he is very protective of his mother as well. And he has as much faith in his father as in God that nothing can harm me as long as my father is there. There is a feeling of Arjun and Abhimanyu. He can do anything for his family. And the father can also do anything for him and there is a very strong bonding I feel that in cinema whether it is a son or a daughter, he sees his father in the same way, the father is seen as God in his culture. Every child knows that there is no one stronger than their father. It is also in the character of shoes and it was responsibility. And the child was also a little stubborn that I would go, he used to do little tantrums, little devilish joy in him, so now he has grown up, so now he has become very fun-loving. Father is such a big hero.
Question: I would like to congratulate a lot that the way the Gadar craze has spread, it will again bring revolution in cinema.
Utkarsh: I am very happy about the cinema hall because today I was reading a story that when Gadar One was released, there was a lot of destruction due to the earthquake in Gujarat in 2001 and the concept of cinema halls was kind of over. People did not have money, their houses were broken for food and drink, and people came on the streets when Gadar Prem Katha came, the people were so excited that the theaters there were alive again. So he who was a gentleman said that the same era is going on after the lockdown many movies are running in theaters except the big hand of Gadar 2 also which is a big industry. And the public also expects the love that the public is getting, we also have a hand in cinema.
Thank you so much and please go and see it because if the cinema works, it will work in many homes.
Also read: Gadar 2 advance booking: Sunny Deol's film leaves behind Akshay Kumar's OMG 2, sells over 30K tickets




Courtesy – www.indiatvnews.com