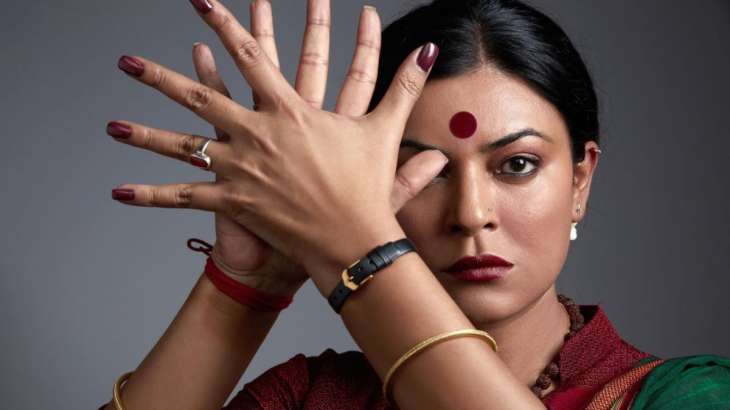 The makers released the most awaited series of Taali starring Sushmita Sen. The trailer throws light on transgender activist Shreegauri Sawant's daring transformation, the journey towards motherhood, and the battle that led to the inclusion of the third gender in every document in India. The trailer begins with an intense voice-over where she introduces herself as Shreegauri Sawant and talks about her journey of becoming Gauri from Ganesh. It also gives a sneak peek at the courageous quest filled with struggles, resilience, and triumph. 
Sharing the trailer Sushmita Sen wrote, "Gauri aa gayi hai. Apne swabhiman, sammaan aur swantantrata ki kahaani lekar. Taali- Bajayenge nahi, bajwayenge. Taali on Jio Cinema streaming from August 15 onwards. A fan commented on her post, "You are fire, and hats off to your guts for choosing a character out of the monotonous characters chosen by actresses". Another said, "This is absolutely gorgeous!!!" One more said, "Cannot wait for this one".
After the teaser dropped last month, the actor has been busy promoting Taali on social media and in interviews. Sushmita unveiled the first look of Taali last year in October.
The show is created and produced by Kartik D Nishandar and Arjun Sing Baran. Taali is directed by Ravi Jadhav and written by Kshitij Patwardhan. The biopic is set to shed light on the inspiring life of Shreegauri Sawant and her childhood, transition, and her contribution to revolutionizing the transgender movement in India.




Courtesy – www.indiatvnews.com