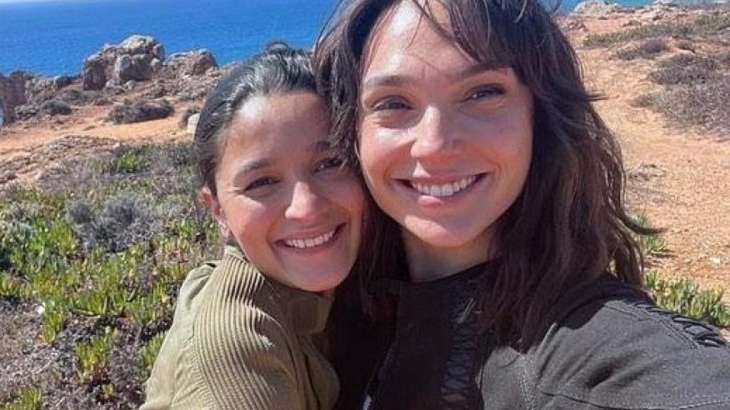 Alia Bhatt, who is riding high on the success of her recently released film 'Rocky Aur Rani Kii Prem Kahaani', discovered that she was pregnant just before she started shooting for the action film 'Heart of Stone' but producer-star Gal Gadot was 'warm, excited and started cheering' when she heard the news. The actress said she felt very well taken care of by the Wonder Woman actress on the movie set.
"I remember when I had to call Gal and let her know that I was pregnant. I'm supposed to start shooting and I have all these action sequences but I wanted her to know because she's the producer on the film and also I would have some restrictions maybe. And she was so warm, excited and started cheering, talking about how it's great luck for the movie and that she's got my back. I think very rarely you meet somebody and in the first two minutes feel very well taken care of, extreme warmth and just safety," she told PTI.
'Heart of Stone', a Netflix action film that she joined in March 2022, marks Bhatt's Hollywood debut. She plays hacker Keya Dhawan in the movie. Alia said she felt comfortable right after her first meeting with Gal Gadot. "When you are working with someone, of course, it's the working relationship that you take away. You just want to meet and interact with people who touch you and make you feel comfortable. And, that's exactly what I felt," she added.
The project also features Jamie Dornan, Sophie Okonedo and Matthias Schweighofer and Bhatt said throughout the production, all the actors 'were very serious, but we never took anything too seriously'. "There was a lot of hard work but there was a lot of just living the dream, sort of committing to the moment and just enjoying this film that we eagerly want the audience to enjoy. We had a great time making it. It was difficult and we had a lot of challenges but thank god, we had each other," Alia further stated.
Directed by Tom Harper, 'Heart of Stone' follows Gadot's Rachel Stone, an intelligence operative working for a shadowy global peacekeeping agency called Charter. Things are set in motion when the organisation's cutting-edge weapon, a technological core called the Heart, is stolen by Bhatt's character, a hacker driven by her pursuit for justice. Stone then embarks on a globetrotting adventure to prevent the weapon from falling into the wrong hands and saving the day. 
It has a screenplay by Greg Rucka and Allison Schroeder. The movie is produced by Gadot, David Ellison, Dana Goldberg, Don Granger, Jaron Varsano, Bonnie Curtis and Julie Lynn.
ALSO READ: Alia Bhatt hopes she & Ranveer Singh could pass the Rocky Aur Rani Kii Prem Kahaani 'exam'




Courtesy – www.indiatvnews.com