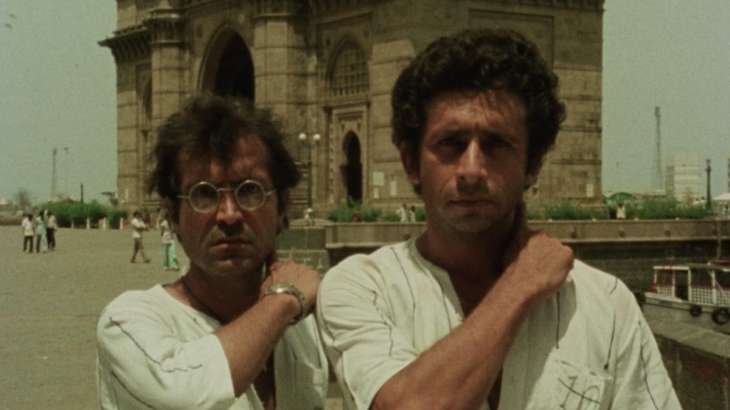 The cult classic, starring Naseeruddin Shah in the lead, Jaane Bhi Do Yaaro which was released four decades ago, in 1983, stands as an enduring testament to the power of satire and humour, coupled with social commentary on corruption and media, in the Indian cinema. The timeless classic still remains in the heart of many for its razor-sharp wit and incisive take on corruption, politics, and societal hypocrisy.
Directed by Kundan Shah, and starring an ensemble cast including Ravi Baswani, Om Puri, Pankaj Kapur, Satish Shah, late Satish Kaushik, Bhakti Barve, and Neena Gupta, the movie was a dark satire on the rampant corruption in Indian politics, bureaucracy, news media and business.
Produced by the National Film Development Corporation of India (NFDC), the film's narrative revolves around the misadventures of two bumbling photographers, Vinod Chopra (played by Naseeruddin), and Sudhir Mishra (played by Ravi).
Vinod and Sudhir open a photo studio in the Haji Ali area in Bombay (now Mumbai), and hope to make enough money to keep it running. After a disastrous start, they are given some work by the editor of "Khabardar", a publication that exposes the scandalous lives of the rich and the famous. They start working with the editor Shobha Sen (played by Bhakti), on a story exposing the dealings between an unscrupulous builder, Tarneja (played by Pankaj Kapur), and corrupt Municipal Commissioner D'Mello (played by Satish Shah).
The duo of Vinod and Sudhir then uncover a web of corruption and deceit involving politicians, builders, and the media. What ensues is a hilarious and thought-provoking series of events that lampoon various aspects of Indian society, from corrupt officials to sensationalist media coverage.
The 'Mahabharata' scene from the movie is also still considered to be one of the major highlights of the film and has been praised for its humour. Filmmaker Vidhu Vinod Chopra played 'Dushasana' in this epic scene. The movie's iconic climax, a chaotic and absurdly comical mock trial in a graveyard, encapsulates the absurdity and farcical nature of the situations that the characters find themselves in. 
Naseeruddin and Ravi's impeccable chemistry brings a genuine charm to their characters, allowing the audience to empathise with their plight even in the midst of chaos. The supporting cast, including Om Puri (who plays Ahuja, a corrupt contractor), Pankaj Kapur, Satish Shah, and Neena (who plays Priya, Tarneja's secretary) are quirky, eccentric, and embody various archetypes which are prevalent in Indian society, and contribute to the flick's comedic brilliance with their memorable, relatable and impactful portrayals. 
With its light-hearted narrative, and Kundan's directorial genius, the film masterfully blends comedy and cleverly explores the deep-seated socio-political issues, media ethics, and sensationalism of news.
As the film celebrates its 40th anniversary on Saturday, its depiction of unethical journalism still remains as relevant today as it was 40 years back.

A cinematic masterpiece that transcends time, the movie also paved the way for a new era of satirical comedies that dared to challenge societal norms and question authority.
(With IANS inputs)




Courtesy – www.indiatvnews.com