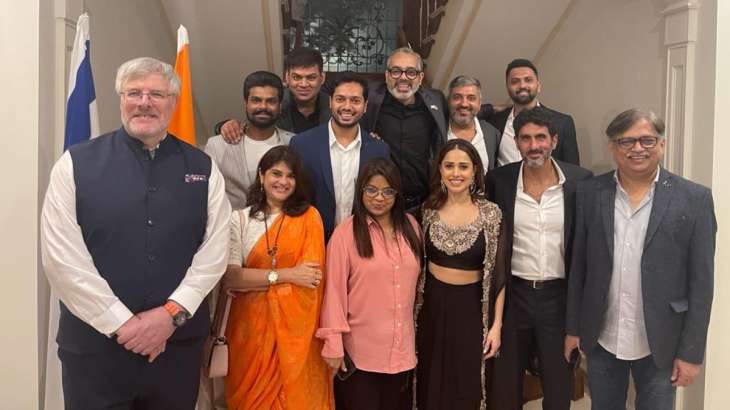 Ambassador of the Embassy of Israel in India, Naor Gilon hosted a soiree that brought together distinguished figures from both the Israeli and Indian film industries to celebrate and strengthen Israel-India cultural partnership. Tsahi Halevi, a well-known Israeli actor, and Nurit Tinari, the Head of the Cultural Relations Division at the Israeli Foreign Ministry, attended this special event. They are in India to promote an exciting co-production that brings together the talents of both countries, as well as to explore new avenues of collaboration.
Speaking about the event, Gilon said, "Every such event is another building block of the people-to-people connection between Israel and India. Indian cinema enjoys popularity in Israel, while Israeli series like Fauda has gained a dedicated fan following in India. The Bollywood debut of the Fauda actor Tsahi Halevi marks a momentous milestone in the growing cultural ties between our two ancient civilizations". 
"As we celebrate this milestone, we look forward to more collaborations bridging our rich cultures and histories, further strengthening our friendship," he added. 
The event also featured the presence of prominent leaders from the film industry of both countries. It is a powerful testament to the strong relationship and mutual commitment to fostering art and culture. 'Fauda' actor Tsahi Halevi is set to make his long-awaited Bollywood debut alongside Nushrratt Bharuccha in the upcoming film 'Akeli.' 
Halevi, known for his roles in acclaimed Israeli productions such as 'Bethlehem,' 'Fauda,' and 'Line in the Sand,' has entered the Indian film industry, adding a new layer of cultural exchange and artistic collaboration.
ALSO READ: Made In Heaven 2: Zoya Akhtar denies author Yashica Dutt's plagiarism claims, calls it 'misleading'




Courtesy – www.indiatvnews.com