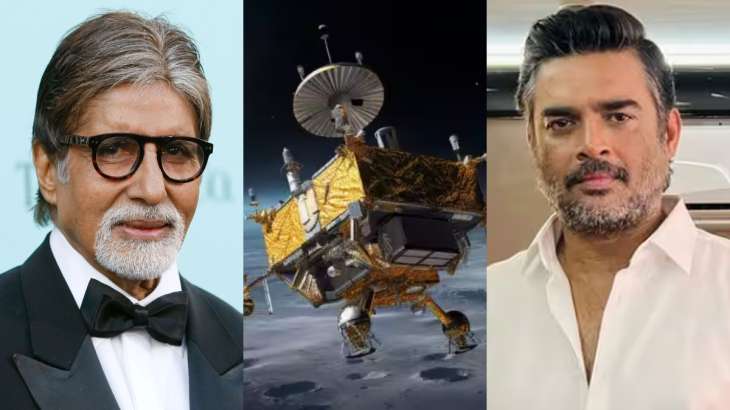 Chandrayaan 3: As the moment of landing of India's third lunar exploration mission – Chandrayaan 3 draws closer, the Indian film industry is supercharged up to witness the latest lunar mission making history by becoming the fourth country to be soft-landing on the lunar surface, following countries like US, China and Russia. Bollywood celebrities like Abhishek Bachchan, R. Madhavan, filmmaker Shekhar Kapur and actor-director Rishabh Shetty lauded the space mission as they took to their respective social media accounts to send their best wishes to the scientists and the brains behind the mission as they hoped for a successful landing.
Abhishek Bachchan, who recently appeared on the latest season of 'Kaun Banega Crorepati', hosted by his father Amitabh Bachchan, called it a moment of pride. He said on the show: "I am feeling very proud. It will land on 23rd evening and our chests swells with pride because our space programme has reached the moon." 
Actor R. Madhavan, who turned director with 'Rocketry: The Nambi Effect', a biopic based on scientist Nambi Narayanan, also congratulated ISRO. 'Rocketry: The Nambi Effect'  showcased how Nambi was falsely accused of espionage, it also spoke about his contribution to ISRO and how he succeeded with Vikas Engine.
On August 23, Madhavan took to his X (erstwhile Twitter) to send his best wishes for Chandrayaan-3. He tweeted: "Madhavan says 'Chandrayaan-3 will be a success', congratulates Nambi for Vikas engineChandrayaan-3 WILL BE ABSOLUTE SUCCESS —- MARK MY WORDS. Congratulations @isro IN ADVANCE on this spectacular success. I AM SO SO HAPPY AND PROUD. Congratulations to @NambiNOfficial too .. Vikas engine delivers yet once again during the launch (sic)."
WWE star and actor John Cena has shared a picture of the Indian flag leaving many fans baffled. He took to Instagram, where he shared the picture of the Indian national flag but without any caption.
Riteish Deshmukh and Genelia are super excited and can't wait to witness this. Speaking exclusively to ANI, Riteish said "Today is the moon landing of Chandrayaan-3 and this is a big achievement for our country. I am very happy and excited since morning. We are proud Indians supporting our country."
Rishab Shetty shared images of Chandrayaan 3 from the moon and took to Twitter to express his happiness. He wrote, Thrilled to be part of witnessing this historic day. Let's join in prayer for the safe landing of the #VikramLander."
Shekhar Kapur tweeted: "Almost 250.000 kms away today India's #Chandrayaan3Mission will attempt a landing in the darkness .. on the far side of the moon A billion hearts praying for its safe landing that will lead India to the forefront of the world's exploration of space Jai Hind."
Chandrayaan 3 consists of a lander named Vikram and a rover named Pragyan similar to those of the Chandrayaan-2. Its propulsion module acts like an orbiter. The propulsion module carried the lander and rover configuration until the spacecraft attained a 153 × 163 km lunar orbit.




Courtesy – www.indiatvnews.com