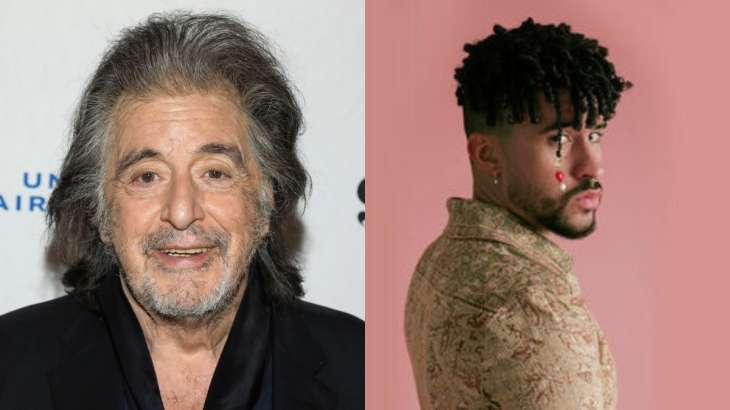 Al Pacino who recently welcomed his fourth child Roman was spotted arriving to shoot for Bad Bunny's latest music video. According to a report by Page Sic, Al Pacino was seen at Carbone in Noho to shoot for the music video alongside Uncut Gems actors Wayne Diamond and Keith William Richards. Al Pacino was accompanied by his 29-year-old girlfriend Noor Alfallah.
For the shoot, Al was seen strutting on the lane beside the main area, as he looked suave in a pair of sunglasses. He opted for a formal look with a light grey suit over a white shirt and grey trousers. Meanwhile, Noor was also seen walking beside him and opted for a black sheer top, motorcycle jacket, and black leggings.
A few weeks ago, Al was seen with Noor on a date night in California. Earlier there were reports that Al no longer wants to be in a relationship with Noor and feels 'trapped' and was seeking out ex Beverly D'Angelo for help. After the news of Noor's pregnancy became public the actor was so surprised and upset at Noor's pregnancy news that he even 'demanded a pre-natal DNA test'. Noor had not even informed Al Pacino that she was pregnant for the first 11 weeks, as she knew Al didn't want to have more kids.
Al Pacino and Noor Alfallah first sparked dating rumours in April 2022, when they were spotted having dinner together in Los Angeles. They started dating after the COVID-19 lockdown. Alfallah doesn't mind the age gap even though Pacino is older than her father.
Al Pacino has never been married. He has a 30-year-old daughter with his former acting coach Jan Tarrant and 22-year-old twins with actor Beverly D'Angelo. Al and Beverly split in 2004 and have since remained friends. They were also spotted together a few months ago after the pregnancy reports surfaced online.




Courtesy – www.indiatvnews.com