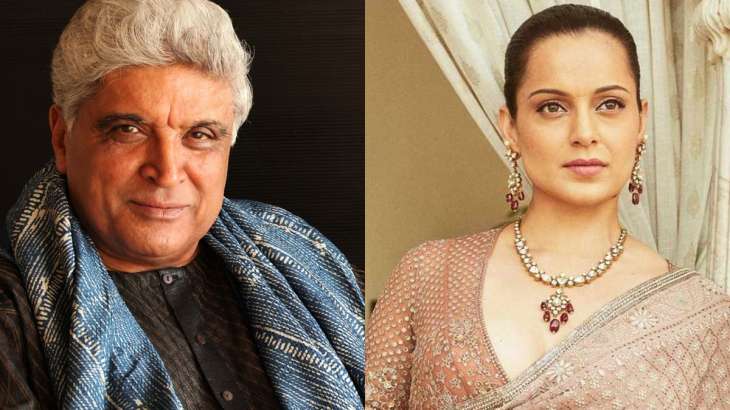 A sessions court in Mumbai stayed the proceedings in a magistrate's court over a complaint filed by Kangana Ranaut accusing lyricist Javed Akhtar of criminal intimidation. The actress, in her reply to Javed Akhtar's revision plea before the sessions court, claimed that he was in a 'state of panic' fearing prosecution. Additional sessions judge (Dindoshi court) A Z Khan stayed the proceedings against Akhtar, said his lawyer Jay Bharadwaj.
The Tejas actress has filed a complaint against Akhtar, accusing him of extortion, criminal intimidation and outraging modesty of a woman. The Andheri metropolitan magistrate issued a summons to the lyricist on July 24 but dropped the extortion charge. There are sufficient grounds in the complaint to proceed against Akhtar otherwise, the magistrate said.
Javed then filed a revision petition before the sessions court, saying that the summons was issued in a "hasty and inappropriate manner". The plea, filed through advocate Bharadwaj, said there was nothing on record which shows that there was sufficient material available with the magistrate for passing the order.
In her reply to Akhtar's revision petition, filed through advocate Rizwan Siddiquee, Ranaut said following the unfavorable order of the magistrate's court coupled with unfavorable testimony given by a crucial witness, Akhtar "seems to be in a state of panic, as he fears that his (defamation) case against Ranaut lacked merit and he may now face prosecution for commission of serious criminal acts like criminal intimidation and outraging modesty of a woman".
Upon reading the first four pages of the petition, it is evident that Akhtar is "not above self-glorifying his achievement and accolades", Kangana said.
"This unfavorable order of issuing process against him for criminal intimidation and outraging modesty of woman must have severely tarnished his reputation and he has now approached this court in a desperate attempt to salvage his reputation by filing this untenable and baseless petition," the response read.
The legal wrangling began after Akhtar (76) filed a complaint in 2020 against Ranaut, accusing her of making defamatory statements against him in a television interview in the aftermath of actor Sushant Singh Rajput's suicide.
Kangana named him for no reason while referring to a "coterie" in Bollywood, he said. Later, she filed a counter-complaint in the same magistrate's court against Javed Akhtar. Following her public dispute with a co-star, the lyricist called her and her sister Rangoli Chandel to his house with "malafide intentions and ulterior motives and then criminally intimidated and threatened" her, Kangana Ranaut alleged.
ALSO READ: Alia Bhatt pens EMOTIONAL note to SLB, Kriti Sanon after winning National Award for Gangubai, seen yet?




Courtesy – www.indiatvnews.com