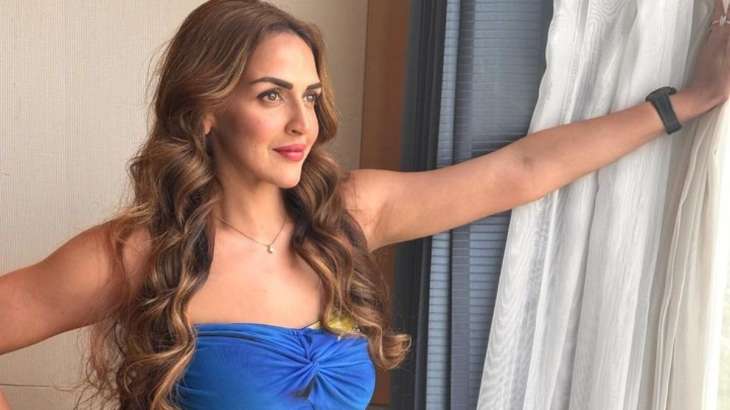 Bollywood actress Esha Deol is currently on cloud nine as her latest flick received a special mention at the 69th National Award recently. Not only she, but the Deol family is enjoying happiness from all sides these days. Earlier, after years, Dharmendra became a hot topic of discussion for his acting in 'Rocky and Rani Ki Prem Kahani'. Later, Sunny Deol's 'Gadar 2' created havoc at the box office, and now Esha Deol's film got a special mention at the National Award in the category of Non-Feature Special Mention category. On this occasion, Esha had a special conversation with India TV.
Question: Your short film 'Ek Dua' has been honored in the Non-Feature Special Mention category. So what was the first reaction?
Esha: At first it took some time to believe that 'Ek Dua' had won the National Award. Getting this honour is a big deal. Then somewhere I felt that when I made this film, I had done something excellent that such a great honour is being given to us.
Question: When your parents came to know about this, what were the first words from their side, be it Hema ji or Dharam ji?
Esha: Any parent always feels happy if their child does something good. Their blessings are always with me.
Also Read: Abhishek Banerjee-starrer 'Stolen' to represent India at Venice Film Festival 2023
Question: There is a happy atmosphere in the family at this time, on one hand, you are going to be honoured with the National Award, on the other hand, Sunny Deol's film 'Gadar 2' is making record-breaking earnings, what will be special in Rakhi festival celebration this time? What would you like to say about Dharam Ji's film?
Esha: The film was very good. Papa has done a great job. Felt very emotional seeing the performance and enjoyed seeing Papa. Talking about 'Gadar 2', it has created mutiny everywhere. From single screen to multiplexes, the film is garnering love everywhere.
Question: Worked with Ramkamal Mukherjee in his 'Cakewalk' and then 'Ek Dua'. What were you thinking when you were making this film?
Also Read: 35 years of Salman Khan: Fans celebrate actor's journey on social media
Esha: First of all, I would like to say that when I heard the script of 'Ek Dua', I was approached only for acting. I said that I have to make this film, I have to produce this film as well and I have been thinking about this for many years that as much voice is raised as it is less. So if I become a part of the film by becoming an actress and a producer, then I will be able to convey the message to the audience better. If I can make people aware somewhere by making a film, then why not? I will act in it, I will make it and I think this subject is very close to my heart and I think it is close to thousands of people.
Question: You are a producer as well as an actor in this film, how was it playing both the roles?
Esha: This is called women power. Women are multitaskers, they do 4-5 things at once.
Question: You belong to a family of superstars, so did you ever feel the pressure that you too have to reach where your parents' level is today?
Esha: Yes, the pressure still remains, the pressure cooker remains on the side. Now if we give importance to it… I think it is better to focus on what we have to do.
Question: Who is the strictest person in your house?
Esha: Dharam Ji definitely. My mother and my grandmother. Although later our relationship with mummy had become very friendly, like best friend but there was fear because she used to say that ab ye kiya to papa ko bolenge. So everyone was afraid of father's name.
Question: Esha, once again you are coming back on the big screen as well, all the famous actresses are coming back, tell about your upcoming projects regarding your work.
Esha: Talking about the upcoming films, right now there is a film named 'Main'. Amit Sadh is with me in this. Just finished shooting, and dubbing, and post-production will all start now. Good scripts, which I always wanted, have started coming my way.




Courtesy – www.indiatvnews.com