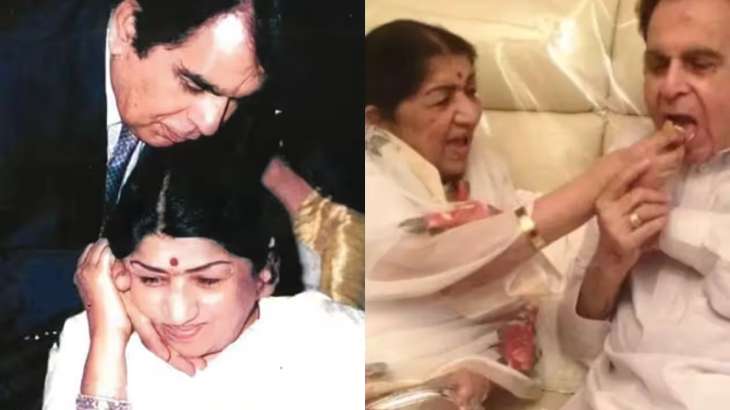 On the occasion of Raksha Bandhan, veteran actress Saira Banu took a trip down the memory lane to remember the brother-sister bond her husband-legendary actor Dilip Kumar and singer Lata Mangeshkar shared. Since her debut on Instagram, Saira Banu has been sharing pictures and anecdotes about herself and her late husband. She married Dilip Kumar in 1966 and fans and supporters have always looked up to their 55 years of marriage as an eternal love story.
Now, on Rakhi, Saira dedicated a special Instagram post to Dilip and Lata. The actress said despite being occupied with their work commitments, the actor and the singer would meet on every Raksha Bandhan. "The Kohinoor of Indian Cinema Dilip Sahib and the nightingale of the Music Industry of India Lata Mangeshkar held a connection beyond the dazzle of their stupendous stardom. They shared the bond of a brother and sister. In those golden quiet bygone days this legendary two-some found it comfortable to travel from their homes to their work spots in local trains which are also known as the life-line of this marvellous city Mumbai," she wrote, adding that she would gift Mangeshkar a brocade sari on every Rakhi.
Dilip Kumar and Lata Mangeshkar would travel to their work locations in local trains and shared their 'thoughts, experiences, and sought each other's advice.' "It was during this travelling time that they shared their thoughts, experiences, and sought each other's advice. It was at one such journey that Sahib guided Lataji on how much the heart of Urdu lies in its flawless pronunciation and how something as simple as a Nukta adds a beautiful addition to words. Sahib emphasised that one must own the spoken languages with mastery. Lataji, an obedient sister in every sense, worked upon his advice and sought an Urdu tutor's assistance. Since then, the world bore witness to her flawless pronunciation in her songs."
She said the bond the two icons shared remained intact 'until the very end'. "Dilip Sahib bestowed upon her the honour of being introduced at the prestigious Royal Albert Hall in London where the echoes of the first Indian concert resounded. With utmost simplicity he called her on the stage , implicit charm. "Ye meri choti si behen bohat mukhtasar si, main inhein introduce karne aaya hoon". The audience roared with appreciation. Thousands of long playing records were made and sold to the public of this same function. Many years later he introduced her again similarly at the London Palladium.
"She often came to our home to visit Sahib and they ate lunch or dinner together. The very last time that she came here, she lovingly fed him with her own hands and they made such a loving picture together. Such was the love they shared monumental," Banu added.
For those unversed, Dilip Kumar passed away last year owing to a prolonged illness. In a career spanning nearly six decades, the star had delivered several unforgettable movies and moments that touched the hearts of many. 
ALSO READ: From Akshay Kumar to Zoya Akhtar; here's how Bollywood stars celebrating Raksha Bandhan
ALSO READ: Sunny Deol CONFIRMS patch-up with Shah Rukh Khan, reveals Jawan actor wished him for Gadar 2




Courtesy – www.indiatvnews.com