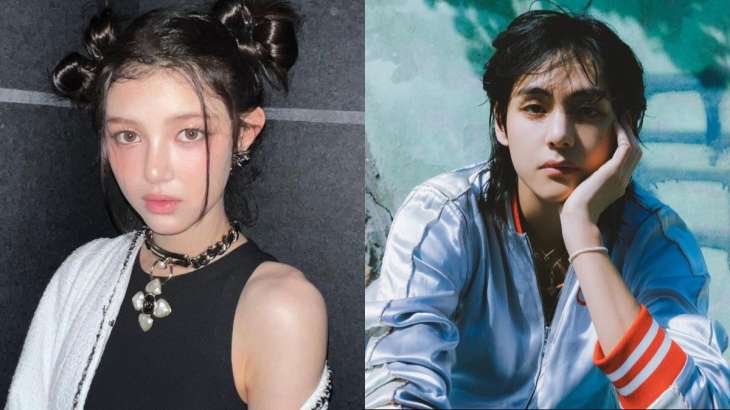 NewJeans' Danielle has shared a soulful cover of BTS V's Rainy Days. Danielle released a video of herself singing V's new solo song, which he dropped earlier this month as one of the two pre-release singles from his upcoming solo debut album Layover. As Min Hee Jin, the CEO os NewJeans' agency ADOR is leading the production of V's solo album, Danielle revealed that Min Hee Jin shared V's songs from Layover with the NewJeans members ahead of their release."As soon as I listened to Rainy Days, it resonated with me so much, recalled Danielle. It touched me deeply and as I was listening to Rainy Days, I said, I really want to try covering this song no matter what".
Danielle went on to tease, "Oh and I can't forget to say this! We listened  to V's unreleased title track as well, and it's good. It's so good and you can definitely look foward to it. I'm really looking forward to it myself.
Recently, a video of V grooving with the NewJeans members to song Hype Boy went viral within no time. Netizens were in awe and surprise when they dropped a dance challenge.
He was the center parts of the song and truly captured the youthfulness of the song. Yet, while the video itself was ironic, netizens noticed that NewJeans had really V-ified the ironic song. The first thing fans noticed was the video's caption, where the group had written Hype V'oy and changed the song's name to fit V perfectly. If that wasn't enough, when the video ended, netizens noticed that the NewJeans members all came together to form a "V" pose. After the video was posted, netizens online even shared that they'd noticed the cute motions at the end of the song.
Also read: BTS' V joins K-Pop girl group NewJeans for a dance challenge, video goes viral
Also read: Kolamaavu Kokila to Kaathuvaakula Rendu Kaadhal: Films in which Nayanthara proved her proficieny in acting




Courtesy – www.indiatvnews.com