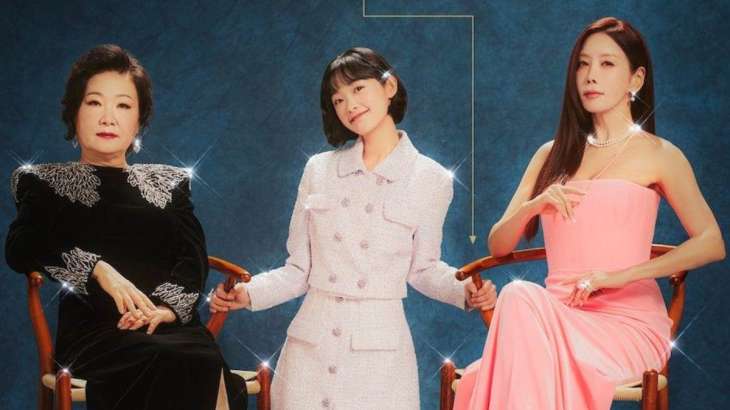 The makers have unveiled new poster of Strong Girl Namsoon. A spin-off drama of the hit drama Strong Woman Do Bong Soon. Strong Girl Namsoon is a comedy drama about three generations of women born with unbelievable strength as they uncover the truth behind the drug-related crimes that occur around Gangnam area. Lee Yoo Mi takes on the role of Do Bong Soon's second cousin Gang Nam Soon, an eccentric and lively person with amazing strength who flew from Mongolia to find her parents. Kim Jung Eun plays Gang Nam Soon's mother Hwang Geum Joo, a money tycoon in Gangnam with a strong sense of justice. Finally, Kim Hae Sook portrays Gang Nam Soon's maternal grandmother Gil Joong Gan, a living legend in the neighborhood of Majang.
The newly released poster captures viewers' attention with an extraordinary group photo of Gang Nam Soon and her family, who all boast special strength. In the family picture, Gang Nam Soon easily lifts the chairs that her mother Hwang Geum Joo and her maternal grandmother Gil Joong Gan are sitting on with each of her hands. The secret to Nam Soon's power is the incredible strength that runs in the family.
As if it is no surprise to them, Hwang Geum Joo and Gil Joong Gan are sitting in a calm manner while they showcase their elegance and charisma. Anticipation is high for how these three generations of women, who get even more stronger when together, will drive away the villains.
"Strong Girl Namsoon" is set to premiere on October 7 at 10:30 p.m. KST. The makers had recently even released a teaser of this upcoming series. 
Also read: Noble, My Love to Chicago Typewriter: K-Dramas & Movies for your animal-loving soul
Also read: Malaika Arora shares cryptic post on Instagram amid breakup rumours with Arjun Kapoor




Courtesy – www.indiatvnews.com