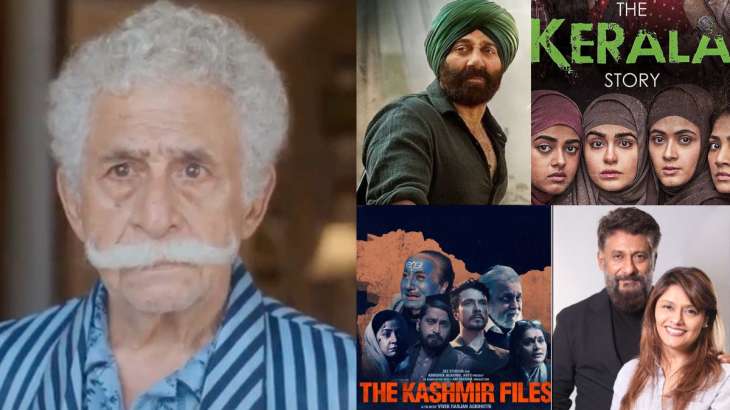 Naseeruddin Shah, regarded as one of the finest actors, doesn't mince his words when it comes to speaking his mind. The actor recently expressed his concern over the popularity of films like 'Kerala Story', 'Gadar 2', and 'The Kashmir Files.' In an interview, the actor spoke about the changing trends in Bollywood. Naseeruddin, who was last seen in Taj: Reign of Revenge, is currently in news for his directorial venture 'Man Woman Man Woman', which also stars his wife Ratna Pathak Shah. 
In an interview with Free Press Journal, Naseeruddin opined that popularity of films now seems to be driven by jingoism, which according to him is 'very harmful'. He said, "Now the more jingoist you are, the more popular you become, because this is what has been ruling this country. It's not enough to love your country, but beat drums about it and you have to create imaginary enemies. What these people don't realise is that what they are doing is very harmful. In fact, films like 'Kerala Story' and 'Gadar 2', I haven't seen them but I know what they are about.".
"It's disturbing that films like 'Kashmir Files' are so massively popular whereas films made by Sudhir Mishra, Anubhav Sinha, and Hansal Mehta, who are trying to portray the truth of their times don't get seen. But it's important that these filmmakers don't lose heart and continue telling stories. They will be responsible for posterity. A hundred years later, people will see 'Bheed' and they will also see 'Gadar 2' and see which one portrays the truth of our times, because film is the only medium which could do that. It's hard to resort to abstraction and capture life as it is. So regressive is a pretty mild word for what's going on," he added.
Further he stated, "It's frightening where filmmakers are being coopted into making films which praise all the wrong things and run down other communities for no reason at all. It's a dangerous trend."
Meanwhile, Naseeruddin has turned director again after a long gap of 17 years by helming a short film titled 'Man Woman Man Woman'. The short film depicts love and companionship across two generations. The 26-minute film is also written by Naseeruddin Shah and is released on the official YouTube channel of Royal Stag Barrel Select Large Short Films.
ALSO READ: Naseeruddin Shah turns director after a long gap of 17 years
ALSO READ: Sunny Deol takes father Dharmendra to US on vacation NOT for treatment




Courtesy – www.indiatvnews.com