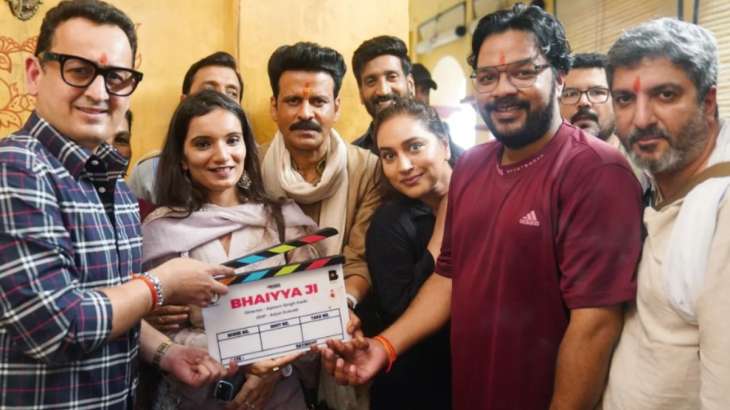 On the auspicious day of Ganesh Chaturthi, versatile actor Manoj Bajpayee announced the beginning of his new film titled Bhaiyya Ji.
Taking to his social media accounts, the Gangs of Wasseypur actor shared a side by side picture of Lord Ganesha with one of his own crew with the actor donning tilak, and marking the start of his film.
Check out his post: 
Also Read: ICC World Cup 2023 – Ranveer Singh to feature in official anthem 'Dil Jashn Bole', song to be out tomorrow
In the caption, he wrote, "Today marks the first day of my film "BHAIYYAJI" as both an actor and producer at Aurega Studios ( @AuregaStudios). I'm working alongside @apoorvkarki88, @VikramKhakhar, #ShabanaRazaBajpayee."
Announcing the production houses and financers, who will be helping him out on his venture, he added, "I will also be getting super strong support from @vinodbhanu& #KamleshBhanushali at @BSL_Films , as well as @iamsameksha and @OswalShaelat #SSOProductions."
The actor concluded by declaring the start of his shooting and beseeching the audiences for their support and blessings. "Filming begins for #BhaiyyaJi. Your blessings mean everything as we embark on this journey. Ganpati Bappa Morya," he wrote.
Also Read: ICC World Cup 2023 – After Amitabh Bachchan, Superstar Rajinikanth gets 'Golden Ticket' for mega cricket event
Manoj Bajpayee's other projects
Manoj Bajpayee is geared up for a plethora of projects like 'Despatch' which is currently going through the post-production phase.
The actor is also currently shooting for his classic action-spy-thriller series 'The Family Man' Season 3, which will release at an unknown date and the soon to come series 'Soup' which has finished filming and is going through post-production.




Courtesy – www.indiatvnews.com