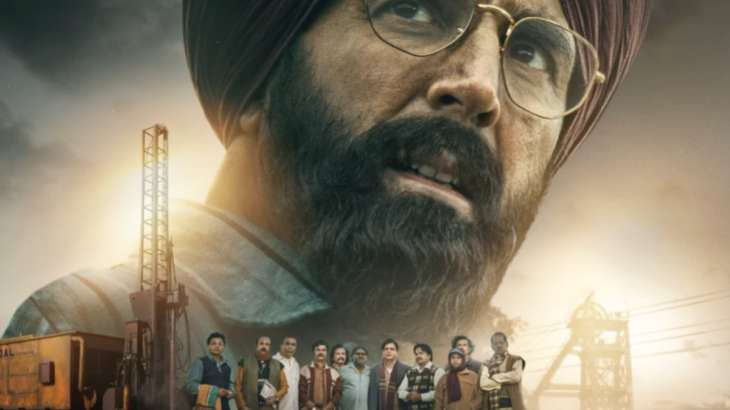 After OMG 2 success, Akshay Kumar is all geared up for his upcoming survival thriller film titled Mission Raniganj: The Great Bharat Rescue. On Saturday, the actor took to his social media accounts to share a new motion poster of the film. The poster feature the team that carried out the rescue mission of miners, who were trapped inside the coal mine in Raniganj. It includes Kumud Mishra, Akshay Verma, Dibyendu Bhattacharya Mukesh Bhatt, Pavan Malhotra, Ishtiyak Khan, Dinesh Lamba, and Virendra Saxena. 
The motion poster begins with a mid-close up shots of the rescue team members with an excavator machine digging in the background. 
Check out the motion poster: 
Also Read: Dharmendra lauds son Sunny Deol on Gadar 2 success, calls himself 'qismat wala'
The motion poster ends with Akshay Kumar coming in the frame above the rescue team. In the film, he plays the role of Jaswant Singh Gill, who in real-life rescued 65 miners at the Raniganj Coalfields in 1989.
In the post, the actor also announced the trailer release date of the film, i.e., on Monday, September 25. 
About the film
Presented by Vashu Bhagnani and Pooja Entertainment, 'Mission Raniganj' is produced by Vashu Bhagnani, Jackky Bhagnani, Deepshikha Deshmukh and Ajay Kapoor, directed by Tinu Suresh Desai.
Apart from Akshay, Mission Raniganj: The Great Bharat Rescue also features Parineeti Chopra in key role. 
Also Read: Parineeti Chopra-Raghav Chadha Wedding – Guests likely to be served Rajasthani and Punjabi cuisines
The film was initially titled Capsule Gill, which was later changed to Mission Raniganj: The Great Indian Rescue. Amid the ongoing debate in the country on changing the name of India to Bharat, the makers of the Akshay Kumar-starrer again changed film's title and it became Mission Raniganj: The Great Bharat Rescue.
The film is slated to release in cinemas after two weeks, i.e. on October 6.




Courtesy – www.indiatvnews.com