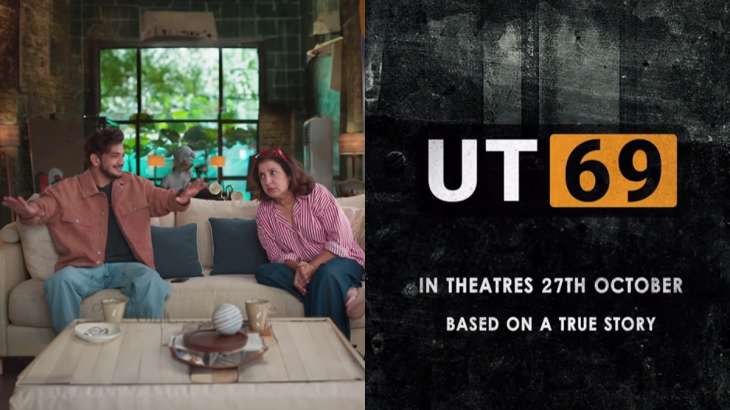 Filmmaker Farah Khan, whose last directorial was Shah Rukh Khan-starrer Happy New Year in 2014, is looking for a new idea for her next project. She took to her Instagram handle on Wednesday to share a short video of herself wherein she can be seen discussing plot for her next film with comedian Munawar Faruqui. In the video, the duo talked about making a biopic project on 'Raj'. Munawar starts taking names of popular personalities whose name begins with Raj. In the end, it came down to Shilpa Shetty's husband Raj Kundra, whose was in headlines in a pornography case.
Watch the video: 
Also Read: Tovino Thomas-starrer 2018 becomes India's official entry for Oscars 2024
In the video, Farah is seen wearing a red and white striped shirt and paired it with blue pants. She is sitting on a couch with Munawar, and says to him "Yaar Munawar koi picture ka idea soch. (Munawar, give me some good idea for a film)." Munawar says, "biopic bana de kya. (shall we make a biopic) Farah seems excited on Munawar's idea and says, "arey biopics bahut chal rahi hai (biopics are really working these days)." Then Munawar says, "Raj par bana de mast (make something on Raj). Farah says "tameez se naam le, Raj Kapoor ji hain, tere dost hai kya (take his name with respect)." Munawar then puts his hand on his neck and says "wo wala Raj (that Raj)", to which Farah said, "Raj Kumar?" Munawar hints at the mask, and Farah replies "Wo Manoj Kumar hai, and I am not going there again (he is manoj kumar)." 
Then Munawar is seen whispering "Raj Kundra", and Farah said "uski picture Shilpa Shetty bhi nahi dekhegi (Shilpa Shetty won't watch his film)." The video ends with Munawar's dialogue "arey Tees Maar Khan hi bana do (if nothing else make Tees Maar Khan 2)." The video ended with the frame of a tantalising figure that is UT 69 which adds to the mystery and excitement and brings up the question of whether this is actually going to be the name of the project. 
The last slide also mentions the date October 27, adding "based on a true story".
Also Read: Shakira tax evasion case: Spain charges singer for second time, demands $7.1 million
In the caption, Farah wrote, "I am forced to put this .You are not..please don't share ahead! #UT69 #MaskMan #RajKundra.'
For the unversed, Raj Kundra, husband of Shilpa Shetty, was arrested in July 2021 on charges of producing pornographic content.
(With IANS inputs) 




Courtesy – www.indiatvnews.com