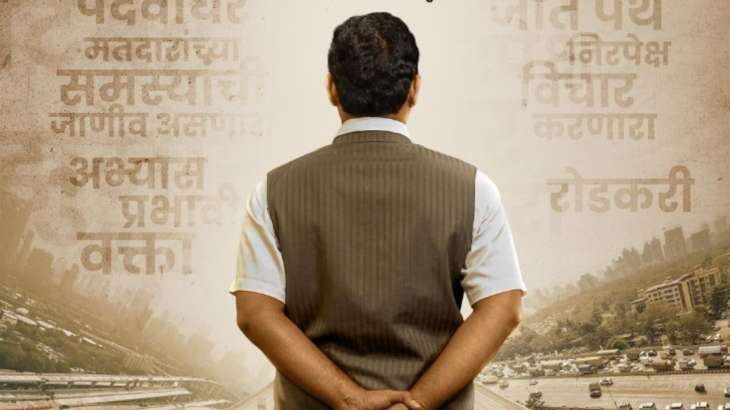 Biopics have been the hottest trend in Bollywood since last few years, be it on any sports personalities or politicians. A new biopic based on the life and work of Bharatiya Janata Party (BJP) leader and Union Minister Nitin Gadkari. The film is titled Gadkari and is scheduled to hit the big screens on October 27. 
This film has been made in Marathi. The poster of this film has been revealed. This film has been made on the life of Gadkari, who is known as the 'Highway Man of India', who gave a new look to the highways in the country. The tradition of biopic is not new in Bollywood, in the last few years films on politicians have now been made in this series. The film on the life of Transport Minister Nitin Gadkari is also going to be released on 70 mm screen.
Check out film's poster:
After the release of the poster of the film, a round of discussion has started in political circles. Gadkari is the first leader of Vidarbha on whose life a biopic is going to be screened on 70 mm screen. Anurag Bhusari is the director of the film Gadkari, who is also responsible for film's story and script. Producer of the film Akshay Deshmukh.
The audience will get to see untouched aspects of the life of Union Minister Nitin Gadkari on screen. In the film, Gadkari's struggle, journey from Jan Sangh to BJP, his contribution as a volunteer of Sangh, political journey will be shown through the film. Before this, biopic on Prime Minister Narendra Modi, former Prime Minister Indira Gandhi, Dr Manmohan Singh, Shiv Sena chief Balasaheb Thackeray has also been made.
More details about the actor, who will be portraying the Gadkari in the film, is yet to be revealed by the makers. 
Also Read: 'Don't want to fight', says Akshay Kumar on OTT release of OMG 2 with 27 cuts




Courtesy – www.indiatvnews.com