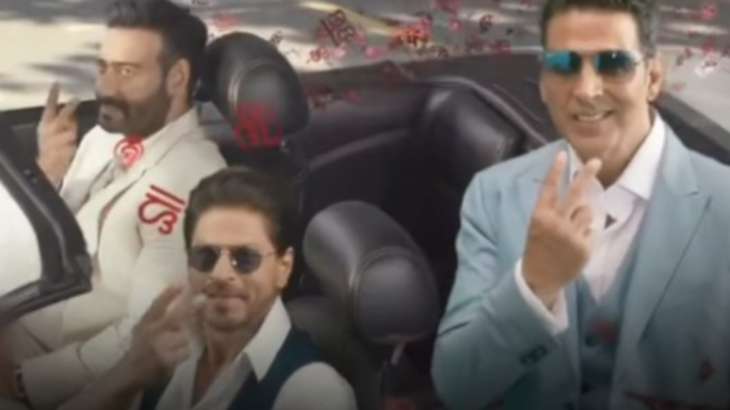 Bollywood actors Shah Rukh Khan, Akshay Kumar, and Ajay Devgn have once again collaborated on a new advertisement for tobacco brand Vimal. A video of the ad was shared on a Shah Rukh Khan fan account on Instagram. What caught everyone's attention was Akshay's role in the advertisment, for which he had previously apologised. The advertisement also features actor-model Soundarya Sharma.
During the ICC World Cup match between India and Australia, fans were in for a shock when a new commercial of a pan masala brand aired. The ad begins with Shah Rukh and Ajay waiting for Akshay Kumar on the street near his house. However, Akshay is engrossed in listening to music on his headphones. When Ajay honks to get his attention, Shah Rukh tries to throw a ball towards Akshay's window to catch his attention. However, the ball accidentally hits the window of their neighbour, Soundarya Sharma.
Soundarya comes out on her balcony, visibly upset about the crack in her window. A nervous Shah Rukh points towards Ajay Devgn, trying to blame him for the mishap. Frustrated, Ajay opens a packet of Vimal, consumes it, and then points towards Akshay's window. The aroma of the product entices Akshay to come to the window, and Ajay asks him to come down. The ad concludes with all of them doing the signature style associated with the Vimal brand.
Well, soon after the latest commercial was displayed, it faced criticism from netizens. They have raised questions about the actor's involvement with the brand and have accused the actor of hypocrisy for appearing in the advertisement despite his earlier statement. A user said, "You had said that you won't work for this brand, existing ads will continue to air till its date, will donate money you got out of this for something noble cause. How come there is a new add with you in it?" Another added, "Akshay will have to hear from the people. He had said he won't do tobacco ads."
Akshay Kumar's earlier statement
Akshay had faced backlash for Vimal's ad and in April, 2022, he issued an apology. "I am sorry. I would like to apologise to you, all my fans and well-wishers. Your reaction over the past few days has deeply affected me. While I have not and will not endorse tobacco, I respect the outpouring of your feelings in light of my association with Vimal Elaichi. With all humility, I step back. I have decided to contribute the entire endorsement fee towards a worthy cause. The brand might continue airing the ads till the legal duration of the contract that is binding upon me, but I promise to be extremely mindful in making my future choices," he had said.
ALSO READ: Anushka Sharma showers love on Virat Kohli-KL Rahul's knocks as India beats Aus in World Cup 2023 match
ALSO READ: Naga Chaitanya-Samantha Ruth Prabhu patched up? Here's what the latest post hints




Courtesy – www.indiatvnews.com