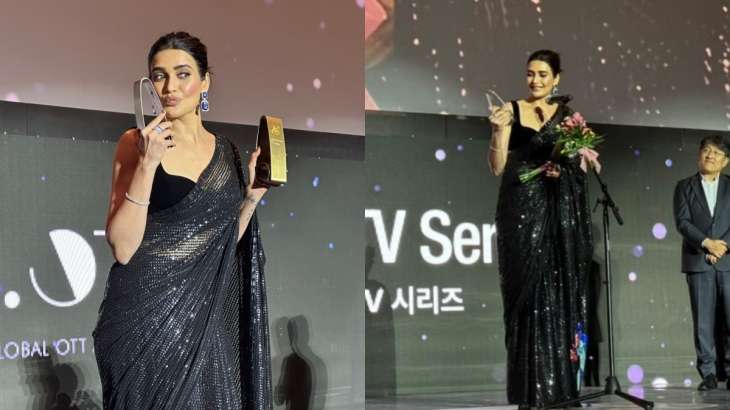 Hansal Mehta's series 'Scoop' won top honours at the Asia Contents Awards & Global OTT Awards 2023 in Busan, South Korea. The Netflix's series bagged the awards for Best Asian TV Series and Best Actress, which was awarded to the show's lead Karishma Tanna. Hansal Mehta shared this exciting news on his social media account, X. According to its official website, Asia Contents Awards & Global OTT Awards is an annual event to celebrate the achievements of excellent content made for TV, OTT, and online across Asia. It was organised by Busan International Film Festival (BIFF) and Korea Radio Promotion Association.
BIFF shared the announcement on its official X page
"The 2023 Asia Contents Awards & Global OTT Awards, the representative content event of the Busan International Film Festival that awards excellent TV, OTT, and online content across Asia, has announced this year's winners and winners. Congratulations!" the festival said in the post.
Hansal Mehta's post
Taking to X (formerly known as Twitter), Hansal wrote, "We won! Best Asian TV Series at Busan. #BIFF23." Hansal had shared a post of a foreign journalist who was attending the festival as well." The post he shared was captioned, "Winning the best Asian TV series is Mumbai crime drama SCOOP directed by Hansal Mehta, starring Karishna Tanna who accepted the award. Winning best Reality & Variety were Korean series PHYSICAL 100, and Vietnamese reality competition show LET'S FEAT VIETNAM. #BIFF23 #KCrushBIFF23."
Karishma Tanna expresses excitement 
Karishma Tanna, who took home the Best Actress award at BIFF, said, "I am truly humbled and elated by this recognition at the Busan Film Festival. It has been an incredible journey bringing Jagruti Pathak to life in 'Scoop.' This award belongs to the entire team who worked tirelessly to make this project a reality. I am immensely grateful to my fans for their unwavering support, and I hope to continue pushing boundaries and delivering powerful performances in the future."
About Scoop
'Scoop' follows Jagruti Pathak (Tanna), a star crime reporter at a Mumbai newspaper, who makes headlines after she is accused of her rival Jaideb Sen's murder. The critically-acclaimed Hindi language series, also directed by Mehta, premiered on Netflix in June. Backed by Indian production banner Matchbox Shots, the show is inspired by Jigna Vora's biographical book "Behind the Bars In Byculla: My Days in Prison".
The series' official description on Netflix reads, "The shocking murder of a journalist thrusts a leading crime reporter into a nexus of police, media and the Mumbai underworld as she fights for justice."
ALSO READ: Shah Rukh Khan gets Y+ security cover amid 'threats' he received during Pathaan's filming
ALSO READ: Gurdas Maan's Canada tour postponed amid diplomatic tensions between India and Canada




Courtesy – www.indiatvnews.com