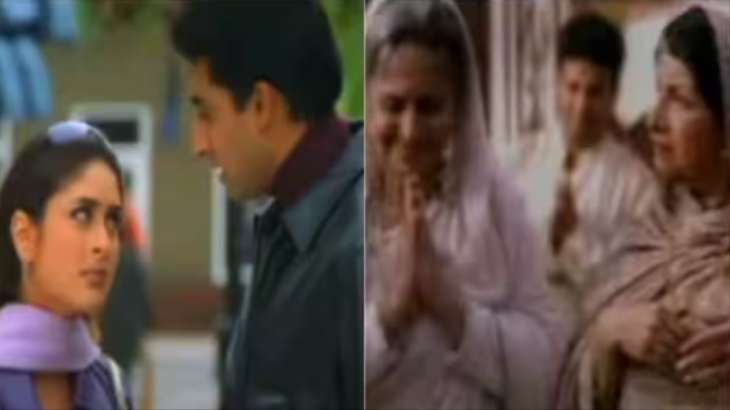 It's been more than 20 years since Karan Johar's blockbuster, 'Kabhi Khushi Kabhie Gham,' hit the silver screen, and yet its enduring charm continues to rule our hearts. Recently, a deleted scene from the movie showing Abhishek Bachchan's cameo surfaced online and it went viral on social media in no time. The video has garnered an impressive 19,000 views, igniting fervent discussions among movie enthusiasts. 
Sharing the clip on Twitter (formerly X), a social media user wrote, "Kabhi Khushi Kabhie Gham had a sequence where the Raichands go shopping. Shot in London on a difficult windy rainy day to add humour in the second half. The 4-minute montage was however deleted. Trivia: It had a cameo appearance by another star…"
Though an official confirmation is awaited, reports claimed that Abhishek Bachchan had urged Karan Johar to remove this part from the film for some reason. Contrary to reports, insiders claimed that the filmmaker had already removed Abhishek's portion even before the actor made the request. 
According to reports, one speculated reason for Abhishek's segment being removed could be the film's extended runtime. Nevertheless, even after more than two decades, the precise rationale behind this decision remains shrouded in mystery.
Apart from Abhishek, SRK's son Aryan Khan and Mohabbatein fame Jugal Hansraj also featured in the movie. 
Directed by Karan Johar, Kabhi Khushi Kabhie Gham is a popular Bollywood film that explores themes of love, tradition, and reconciliation within an affluent Indian family. The film features a star-studded cast, including Amitabh Bachchan, Jaya Bachchan, Shah Rukh Khan, Kajol, Hrithik Roshan, and Kareena Kapoor Khan. 
The story of the movie revolves around a wealthy and influential Raichand family living in London. The head of the family, Yashvardhan Raichand (played by Amitabh Bachchan), is a successful businessman who values tradition and values above all else. The film explores the journey of reuniting the family, mending broken relationships, and the power of love and forgiveness. 




Courtesy – www.indiatvnews.com