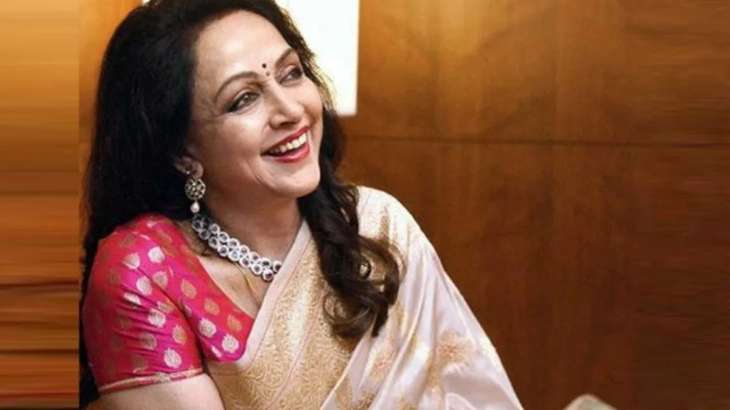 The dream girl of Bollywood, Hema Malini turned 75 today and wishes have been pouring in from all corners of the world. The actor was born on October 16, 1948, in Ammankudi, Tamil Nadu. Having worked in several classic Bollywood films, Malini joined the Bharatiya Janata Party and became a member of the Rajya Sabha, the upper house of the Indian Parliament in 2003.
Here are five interesting facts about birthday girl Hema Malini 
Hema Malini converted to Islam to get married to Dharmendra 
Hema Malini met her husband Dharmendra on a film set. Her first film with Dharmendra was Tum Haseen Main Jawaan (1970). Both the veteran actors have worked in more than 30 films together and most of them were hit at the box office. Malini married Dharma Ji in the year 1980. Both of them got married after a lot of difficulties. The Sholey actor was already married to Prakash Kaur and had two sons, Sunny and Bobby. Dharmendra was unable to marry Hema as Prakash refused to divorce him. However,  on August 21, 1979, both the actors converted to Islam, changed their names to Aisha B R. Chakravarty and Dilawar Khan Kewal Krishna, respectively, and eventually got married. 
Hema Malini's last film released in 2016
Hema Malini has worked in many great films. The actress has done films like Dream Girl, Sholay, Sita Aur Geeta, Baghban, Kranti, Johnny Mera Naam, Naseeb, and Sapno Ka Saudagar. Hema Malini is still called Sholay's Basanti and Dream Girl. However, after joining politics in 2003, she took lesser films. Her last film Babul released in 2006. Apart from her, the film featured Amitabh Bachchan, Rani Mukherjee, Salman Khan, and John Abraham in lead roles.
Hema Malini won just one award in the best actor category 
Bollywood actor Hema Malini was one of the finest actors of her time. From comedy to drama, everything seemed effortless for her. But despite being nominated 11 times in the Best Actor category, the actor only won one Filmfare award in her acting career for the 1973 film Seeta Aur Geeta. She was awarded Padma Shri by the government of India in the year 2000. 
Fashion Trendsetter?
Did you know that Hema Malini was among the first actresses to wear bell bottoms and shirts in Hindi movies? She is also amongst the few who have kept their word of not wearing any revealing outfits in public. 
Did you know Hema Malini is a trained Bharatanatyam dancer?
Hema Malini is a trained Bharatanatyam dancer. Her daughters Esha Deol and Ahana Deol are trained Odissi dancers. They performed with Malini in a production called Parampara for charitable events. She also performed with her daughters at the Khajuraho Dance Festival.




Courtesy – www.indiatvnews.com