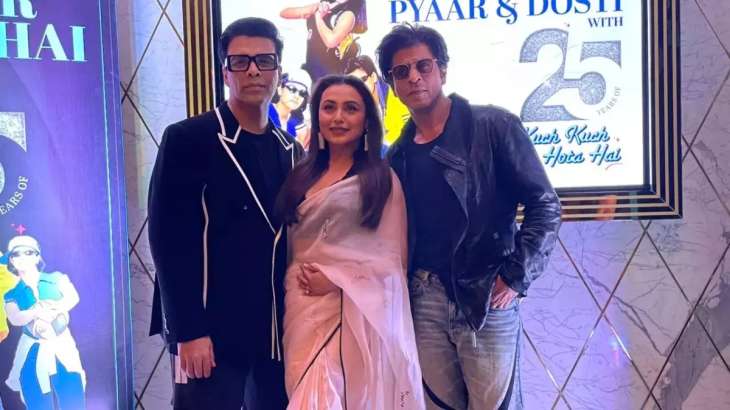 Karan Johar's first directorial Kuch Kuch Hota Hai turned 25 on Sunday. On this special occasion, a special screening of the movie was held in Mumbai, and the superhit film has once again been released in theaters. Bollywood actors Shah Rukh Khan and Rani Mukherjee along with their director even reached the theater to surprise their fans. 
Several videos of the trio are circulating on the internet, where they can be seen engaging with the audience present in the theater. However, what also grabbed the attention of social media users was why lead actor Kajol was absent from this public appearance. Some users even jumped their guns and came to several conclusions, but here's the real reason for Kajol skipping the Kuch Kuch Hota Hai celebration. 
It was SRK who cleared the air and revealed that Kajol had to rush to a shooting outdoors. "She said that please give all my love to you all," said Shah Rukh. 
Karan Johar completes 15 years in Bollywood
With this, ace Bollywood director-producer Karan Johar has completed 15 years in the Hindi film industry. Karan Johar being a producer's son was always intrigued by filmmaking. But it was Shah Rukh Khan who showed faith in the aspiring director and promised him to act in his first film. And then Karan Johar gave Bollywood one of its classic love stories. Kuch Kuch Hota Hai proved to be a super hit film at the box office. The film was released on 16 October 1998. Karan has also posted about completing 25 years in Bollywood on Instagram. "Tomorrow my journey in Films completes 25 years. Can't believe It's been that long! #diltobachahaiji #careeranniversary #25yearsofkkhh," read his caption. 




Courtesy – www.indiatvnews.com