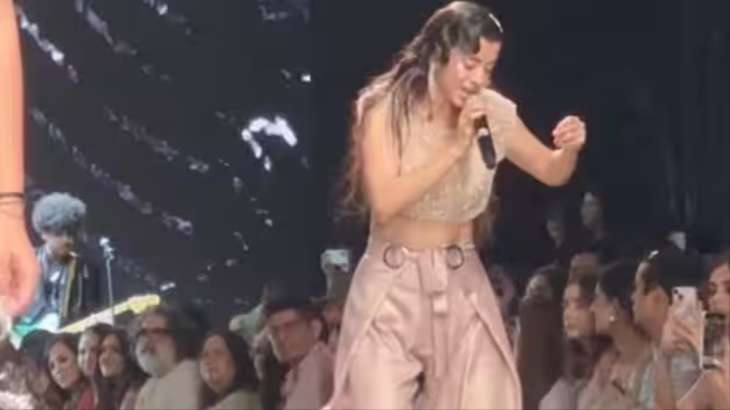 Days after Saba Azad was brutally trolled for her dancing and singing during Lakme Fashion Week (LFW), her partner and Bollywood actor Hrithik Roshan gave a savage reply to the trolls. Taking to his Instagram stories, Hrithik reposted Saba's dance video and gave her a huge shoutout.  "That surrender! That's why the shine!", the actor wrote along with sun and red heart emojis.
SABA AZAD RAMP WALK AT LAKME FASHION WEEK
Earlier last week A video had gone viral on the internet wherein Saba Azad was seen doing hip-hop moves. Dressed in a shimmery pantsuit with a sequinned crop top, Saba Azad's moves took the internet by storm.  While a section of social media trolled the actor-singer for mocking the ramp, others called it savage.
SABA AZAD's BEFITTING REPLY TO TROLLS
Responding to a troll who advised her to take therapy, the actor-singer asked, "Why yes, sir/madam spud! I tend to agree, and I get it on a regular, as should everyone else. If you exist in a world as consumed by hate as ours, you should try it! It helps you fill your own tanks and thus not get so deeply offended by the peaceful existence of others".   
She also hit back at the troll who called her mad. "Yes, Jaffar!! I really must be, to keep waking up every day in the wake of the constant hate being sent my way and thinking maybe today will be a better day and smiling and carrying on. I must be mad because maybe the world is actually just filled with people such as yourself, who sit behind the safety of their screens, adding nothing but hate into the world. That's your legacy; that's what you're going to leave behind. (smiley face emoticon) Chew on that buddy!", she told one of the social media users.




Courtesy – www.indiatvnews.com