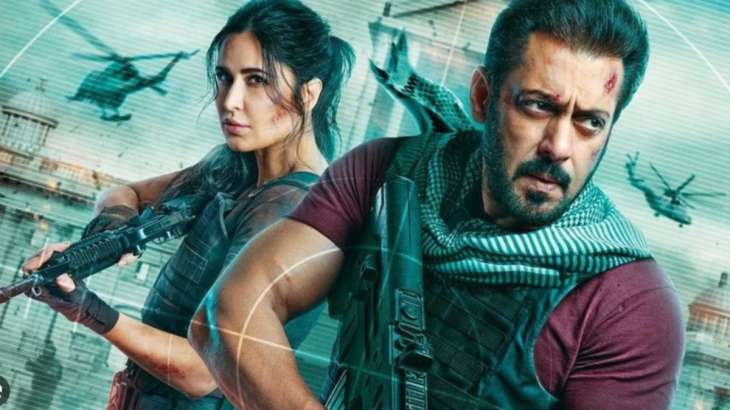 The trailer of Salman Khan and Katrina Kaif starrer Tiger 3 is finally out. One of the most anticipated movies of 2023, Tiger 3 had already kept fans on the hook and now, the newly released trailer has just maximized the excitement. The action-packed trailer of Tiger 3 started trending as soon as it was released. Salman Khan and Katrina Kaif's action sequences are already winning hearts. But Emraan Hashmi's appereance is just too hard to miss. 
The powerful trailer of Tiger 3 has revealed the plot of the film but there's surely more to it. The trailer begins with the background sound of a woman saying the difference between the peace of the country and the enemies is just about a man. Later, Salman Khan makes his impactful entry. The actor can be seen doing bike stunts. His dialogue 'I will finish the fireworks you started' is being liked by a lot of people.
Watch the full trailer here:
Tiger 3 trailer gets green signal from fans
Tiger 3 seems like a revenge story of a Pakistani militant, played by Emraan Hashmi. The trailer has a fair amount of story revelation. Both the lead actors Katrina Kaif and Salman Khan are seen in tough action sequences. A bit of their romance and family time has also been shown in the trailer. Overall the trailer of Tiger 3 has been received well by the audience. 
Tiger 3 release date
Tiger 3 is the fifth film of the YRF spy universe with Tiger played by Salman being the first spy. Katrina Kaif and Emraan Hashmi are going to be seen in lead roles with Salman Khan in the film. Imran will be seen in a negative role in the film. The film has been directed by Manish Sharma. Tiger 3 is going to be released in theaters on November 10, 2023 in Hindi, Tamil and Telugu.




Courtesy – www.indiatvnews.com