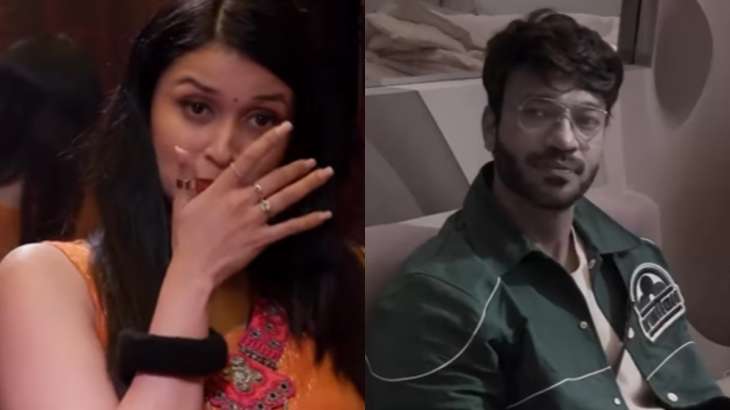 Bigg Boss 17 is here with its daily dose of entertainment and high-voltage drama. Less than 48 hours after the premiere of Salman Khan hosted show Bigg Boss 17, it appears that tensions in the house are already escalating. In a promotional clip released by the show's makers on Tuesday, Bigg Boss, during nomination special episode, can be seen asking the housemates to name a contestant they believe is a 'casting mistake.' 
Responding to BB's question, Neil Bhatt, Aishwarya Sharma, Isha Malviya, and Vicky Jain take Mannara Chopra's name, which visibly upsets and disappoints the actress, who is seen teary-eyed. Expressing the same, she can be heard saying, "I am really hurt because of Vicky. He has double standards." 
This season features a compelling lineup of contestants, including the former couple Abhishek Kumar and Isha Malviya, who have been at the center of significant attention. On the premiere night, the duo engaged in a heated argument in front of host Salman Khan. However, in the latest episode, it seems that they have managed to reconcile their differences. 
Isha's change of heart towards her former lover Abhishek Kumar, left fellow contestant Mannara Chopra puzzled, creating further intrigue and drama within the Bigg Boss 17 house. During a conversation in the Bigg Boss house, when asked about her willingness to share a room with Abhishek, Isha surprisingly agreed and expressed her desire to establish a new connection with him. This turn of events led fellow contestant Mannara to question their relationship and inquire whether Isha's boyfriend would have any issues with them sharing a bed. 
She confronted Abhishek, asking, "Don't you think she wants to be associated with you, she doesn't want to be in a relationship with you but can share a bed with you?" To which Abhishek said that it is a common thing in every season of Bigg Boss. 
Meanwhile, Bigg Boss 17 features a diverse and controversial group of celebrity contestants. The participants for this season include Ankita Lokhande, Vicky Jain, Neil Bhatt, Aishwarya Sharma, Mannara Chopra, Munawar Faruqui, Soniya Bansal, Arun Mashettey, Sana Raees Khan, Navid Sole, Khanzaadi, Anurag Dobhal, Jigna Vora, Sunny Arya, Rinku Dhawan, Abhishek Kumar, and Isha Malviya.
ALSO READ: Alia Bhatt REPEATS her wedding saree for 69th National Film Awards | Watch
ALSO READ: What? Kareena Kapoor had a catfight with Priyanka Chopra? Here's what the former REVEALED




Courtesy – www.indiatvnews.com