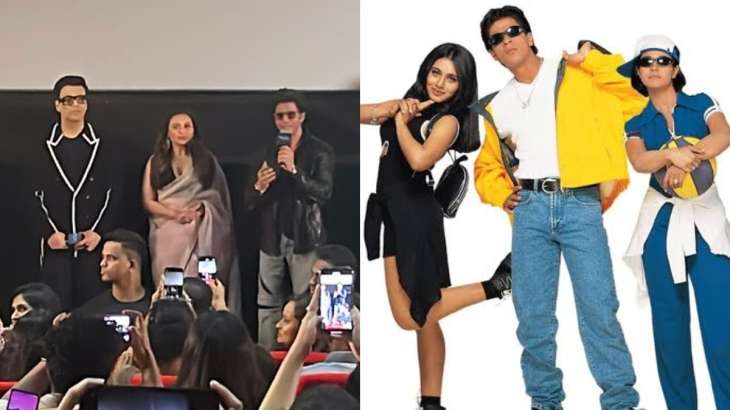 Karan Johar, the director of 'Kuch Kuch Hota Hai,' recently celebrated the film's 25th anniversary with special screenings in Mumbai. The star cast including Shah Rukh Khan and Rani Mukerji surprised fans as they attended the screening with KJo. During this, the filmmaker expressed his deep admiration for Shah Rukh Khan and declared that Shah Rukh had transcended the title of 'King Khan' to become an 'Emperor.'
Karan praised Shah Rukh Khan and said, "I bow down to the man himself, the biggest movie star of this world. I remember the day 'Kuch Kuch Hota Hai' was released; I said, 'Okay, now we are done with King, now we are officially Emperor.' To the emperor of entertainment and the Queen of so many hearts, I am so grateful." Karan's words left the fans enthusiastically cheering and underscored the lasting impact and significance of Shah Rukh Khan in the world of entertainment.
For the unversed, 'Jawan' marked Shah Rukh Khan's second major release of the year. The film became a massive blockbuster and garnered an impressive worldwide box office collection of reportedly Rs 1,132.13 crore. Before 'Jawan,' Shah Rukh Khan had set the box office on fire with his film 'Pathaan,' which was released in January 2023. These successful releases further solidified Bollywood superstar's status as a significant in showbiz, thus compelling Karan to call SRK- 'emperor.'
ALSO READ: Kuch Kuch Hota Hai REMAKE: Karan Johar wants to cast THESE actors if Shah Rukh Khan-Kajol starrer is remade
About Kuch Kuch Hota Hai
Karan Johar's 1998 film is considered a classic cult movie and one of the finest in Bollywood's history. The film, which marked Karan Johar's directorial, featured Shah Rukh Khan, Kajol, and Rani Mukerji in prominent roles. The film then collected Rs 80.12 crore in India and crossed Rs 1 billion worldwide. It became the highest-grossing Bollywood film of 1998 worldwide.
This year, the 'Kuch Kuch Hota Hai' celebrated the film's 25th anniversary, as it was originally released on October 16, 1998. To commemorate this milestone, Karan Johar hosted three special screenings in Mumbai for fans, and the tickets were priced at just Rs 25. 
Well, Kuch Kuch Hota Hai gave one of the most iconic dialogues of Indian cinema: 'Pyar dosti hai … agar woh meri sab se achchi dost nahin ban sakti, to main usse kabhi pyar kar hi nahi sakta … kyun ki dosti bina toh pyar hota hi nahin … simple, pyar dosti hai'. There is hardly anyone who doesn't remember this dialogue especially if you are a 90s kid.
ALSO READ: What? Kareena Kapoor had a catfight with Priyanka Chopra? Here's what the former REVEALED




Courtesy – www.indiatvnews.com