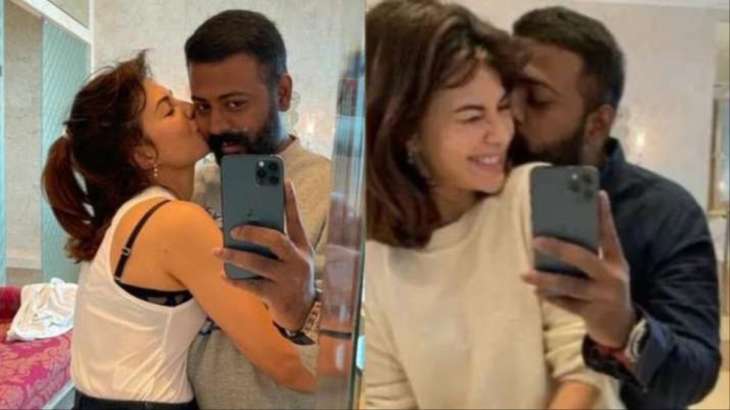 Sukesh Chandrashekhar, who is lodged in Mandoli jail here in connection with several frauds, has kept 9-day fast for his ladylove and Bollywood actress Jacqueline Fernandez. Jacqueline and Sukesh were rumoured to be in a relationship. Their private pictures had created quite a stir on social media. Sukesh, currently behind bars serving a sentence for allegedly defrauding someone of a significant sum of 200 crore rupees, has penned a heartfelt love letter to the Bollywood actress amid the ongoing 9-day festival. This letter from the conman wherein he has expressed his unwavering love for Jacqueline.
"Baby, firstly, you were looking super hot and pretty at the 'Doha Show'. Baby, there is no one prettier than you, my Bomma. Baby, as Navrathri is commencing tomorrow, I am for the first time in my life going to fast all the 9 days for 'your well-being' and mainly to ward away all the negativity around us. With Ma Shakthis's divine intervention, everything will be in our favour; the truth will prevail. We will be with each other very soon, come what may, and live together forever, my baby girl", BollywoodLife quoted Sukesh's letter. 
Moreover, he promised Jacqueline that they would be together soon. "I would let even a single scratch on you anymore. Baby, no 'cage' in this world can stop me from loving you, protecting you, and standing up for you. Baby, I know how much you love me. At the same time, you know, my baby, I live for you. I would kill for you. I would die for you. Baby, you are my lifeline. I can't wait to come and hold you tight. I love you like crazy, my baby, my tigress, my shakthi", the letter further read. 
This is not the first time the conman has expressed his love for Jacqueline. Earlier also he had penned a letter to Jacqueline on his birthday and said that he was missing her. He had referred to her as a "beautiful doll" in Telugu calling her his "Bomma" a couple of times.
"My Bomma, I miss you a ton on this day of my birthday, I miss your energy around me, I have no words, but I know your love for me is never ending, is all over me. I know what is in your beautiful heart. I don't need proof and that's all that matters to me, baby. But I must admit, I am missing you, you know how much I love you my botta bomma," he wrote in the letter.
For the unversed, Chandrashekhar and his associates reportedly took money from Aditi posing as government officials and promising to secure bail for her husband who was in jail in a money laundering case. 




Courtesy – www.indiatvnews.com