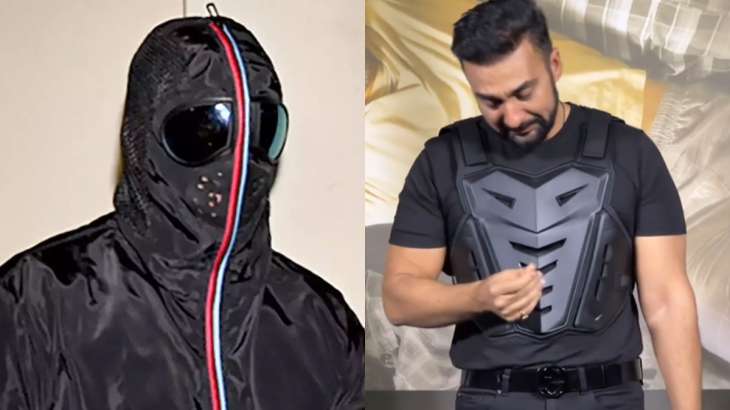 Often popular as Shilpa Shetty's husband, Raj Kundra unmasked himself for the first time in months during a press event on Wednesday. For those who have been asleep for a decade, Kundra was jailed in November 2022 over a pornographic case and since then he has worn masks in public. 
A video is doing rounds on the internet wherein the businessman can be seen showing his face to the media almost a year after his controversy. Dressed in all-black, he removes his automatic Iron mask and shows his face with a smile. 
Watch here: 
In another video, he couldn't hold his tears back while talking about the controversy that broke out last year. He said in Hindi, "It was painful for my family. Why drag my wife, kids, and my family? Point your fingers at me but not my family." He then turns back to control his tears.
Watch the video here: 
Raj Kundra's biopic
Filmmaker-choreographer Farah Khan is joining hands with Raj Kundra and Munawar Faruqui for UT69. The biopic will trace Kundra's time in jail. The trailer of the same is finally out now and the film is slated for its release on November 3.
Watch:
Why did Raj Kundra hide his face from media?
During a #AskRaj session on Twitter, now X, Raj Kundra had revealed the reason behind not showing his face to the media. Replying to a tweet, he had said, "I am Not wearing it for public just don't wish to give media a chance to click my face! I am hurt by the media trial they put me through! Media is not above the law! #AskRaj."
Take a look at the tweet:
Also Read: Will Anushka QUIT acting after second child? Her old statement on marriage, kids goes VIRAL | WATCH




Courtesy – www.indiatvnews.com