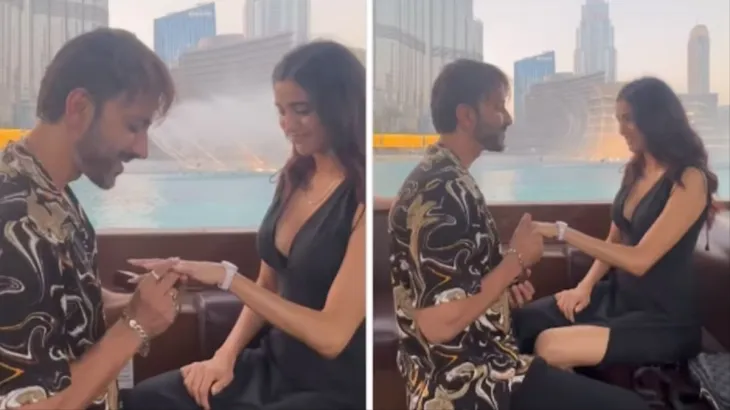 Actor, anchor and DJ Ali 'Libaas' Merchant recently got engaged to Andleeb Zaidi, a model hailing from Hyderabad. After revealing his relationship with Zaidi, Ali has shared a video which shows the moment when he proposed her in front of Burj Khalifa, Dubai. Taking to his Instagram account, Ali shared a video in collaboration with Andleeb Zaidi. 
In the video, Ali and Andleeb can be seen on a boat, set against the backdrop of the iconic Burj Khalifa, with its majestic fountains dancing in the background. During this picturesque moment, Andleeb joyfully accepts Ali's proposal, and he gently places the ring on her finger. The entire scene is nothing short of a cinematic fairytale, evoking the magic and romance one might expect from the big screen.
Ali and Andleeb fell in love at a fashion show, where the duo first crossed paths. After being in a relationship for approximately a year, Ali made the momentous decision to propose to Andleeb in an enchanting manner.
Ali Merchant gained recognition through his participation in the Indian reality TV show "Bigg Boss 4." He is also notable for his short-lived and controversial marriage with fellow contestant Sara Khan during their time on the show. Their on-screen wedding was a major highlight of that season. However, their marriage ended in divorce just two months after the show concluded. Ali Merchant has been in the public eye due to his appearances on television and his personal life, including his marriage and engagement to Andleeb Zaidi




Courtesy – www.indiatvnews.com