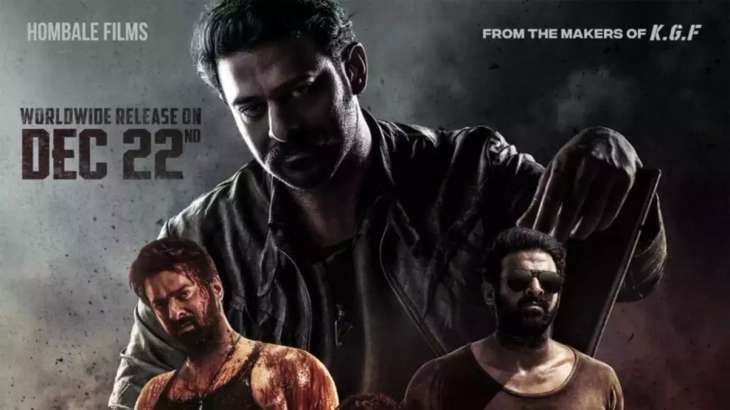 Hombale Films 's 'Salaar: Part One – CeaseFire' starring Prabhas is the most awaited actioner from Indian Cinema.  While the film is two months away from its grand release, the makers Hombale Films unveiled a new poster from the film featuring Prabhas.  The idea behind the unveiling of the new poster was to commemorate the grand birthday celebration of the lead actor Prabhas.The makers took to social media and shared the poster. Along with the poster, the caption read, "Happy Birthday to the Unrelenting, Unmerciful King's General SALAAR, #Prabhas #HappyBirthdaySalaar #SalaarCeaseFire # Salaar #SalaarCeaseFireonDec22"
In a significant and unique tribute to Prabhas, Twitter has introduced special emojis of his character look from 'Salaar.' This is a rare honour and a testament to the actor's global fan following. The emojis are associated with select hashtags, including #Prabhas, #SalaarCeaseFireOnDec22, #SalaarCeaseFire, and #SalaarComingBloodySoon. These emojis have further heightened the buzz and excitement surrounding the film's release.
The anticipation of the masses is sure to touch sky-high as the first and exciting collaboration of Prabhas, the star of 'Baahubali,' and Prashanth Neel, the director behind the blockbuster 'KGF' franchise, and they both aim to bring a cinematic spectacle to the audiences and a never seen before world for the masses.
Salaar Part 1: Ceasefire is the most awaited project this year, is set to be released in two parts like Prashanth's previous film K.G.F franchise. Salaar features a stellar star cast including Malayalam superstar Prithviraj Sukumaran, Shruti Haasan, JagapathI Babu, Tinnu Anand, and Sriya Reddy among others. Salaar will be released worldwide on December 22 in Tamil, Malayalam, Hindi, Kannada, and Telugu. 
Apart from Salaar, Prabhas also has another project in the line titled Kalki 2898 AD. The film will feature Deepika Padukone, Amitabh Bachchan, Kamal Haasan, and Disha Patani among others. Kalki 2898 AD will is scheduled to be released on January 12, 2024.
Also read: Bipasha Basu's daughter Devi looks cutest in saree as they visit Durga Puja pandal with Karan | VIDEO
Also read: Watch: Jaya Bachchan, Rani Mukherjee seen together for Durga Puja festivities




Courtesy – www.indiatvnews.com