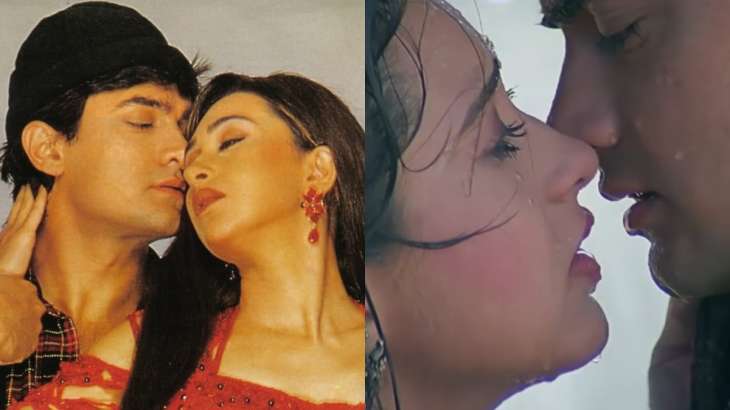 Starring Karisma Kapoor and Aamir Khan, Raja Hindustani is among the cult romance Hindi films of the 90s. Directed by Dharmesh Darshan, it became the most-talked-about film of 1996 due to the longest kissing scene between Kapoor and Khan. It was their onscreen chemistry that made Raja Hindustani a blockbuster. In a recent interview, Darshan opened up about the same and revealed some unknown facts about the scene. 
Speaking to Lehren Retro, Dharmesh Darshan revealed that Karisma Kapoor shot the scene in front of her mother Babita. Hailing her dedication, the filmmaker said Kapoor was uncomfortable with the kissing scene and was also quite young at that time. It was Babita Kapoor who made her daughter comfortable by being on set while filming the scene. 
Karisma Kapoor and Aamir Khan took 3 days to shoot the kissing scene 
Back then it was also said that the iconic scene took 47 retakes for perfection. Darshan further revealed that the makers initially decided to feature the kiss on the film's poster to create a hullabaloo, however, they dropped the plan. Earlier, Karisma Kapoor opened up about the same and had said Aamir Khan and her were waiting for the scene to end soon. For those uninitiated, the scene was shot in Ooty. 
Juhi Chawla was the first choice for Karisma Kapoor's role
In the same interview, Dharmesh Darshan revealed that the female lead role was first offered to Juhi Chawla. However, he was unsure of the script and did not want to do a romantic film. Darshan claimed that he tried to convince Chawla by giving the example of Madhuri Dixit's Hum Aapke Hain Koun!. Chawla did not agree and was irked after Darshan compared her to Madhuri Dixit. 
The makers also reached out to Pooja Bhatt and Aishwarya Rai for the role, however, they said no to the script. 
Also Read: Ranbir Kapoor planning to take 6 months break from acting. But why?




Courtesy – www.indiatvnews.com