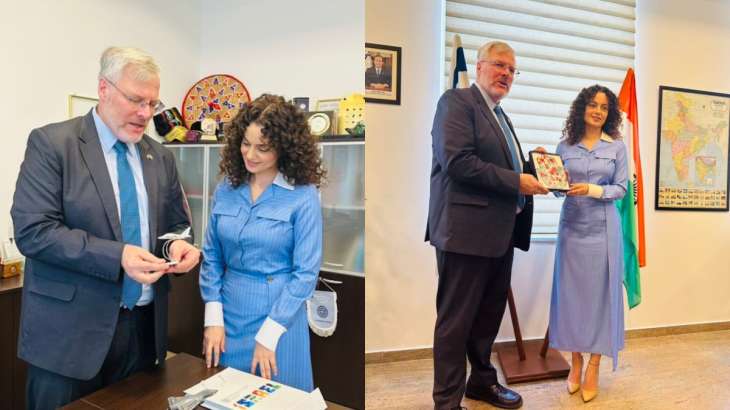 Kangana Ranaut, who is currently promoting her upcoming film, 'Tejas', on Wednesday (October 25) met Israeli Ambassador Naor Gilon and expressed confidence that the country will emerge victorious in its 'war against terrorism.' The actress shared photos and a video of her interaction, in which she discussed the ongoing Israel-Hamas conflict, with the Israeli ambassador on her official X account. The actress also expressed her thoughts on the distressing aspect of innocent children and women being targeted, highlighting the heartbreaking nature of this situation.
Kangana's statement
"Had a very soulful meeting with Israel's ambassador to India Shri Naor Gilon ji. Today the whole world, especially Israel and India, are fighting their war against terrorism. Yesterday when I reached Delhi for Ravana Dahan, I felt that I should come to Israel Embassy and meet the people who are defeating today's modern Ravana and terrorists like Hamas," Ranaut posted, referring to her participation at the national capital's famed Lav Kush Ramleela.
Earlier this month, Israel launched an attack on the Hamas-controlled Gaza Strip after militants affiliated to the group killed hundreds, including civilians in large numbers, in an assault on the country. "The way small children and women are being targeted is heart-wrenching. I have full hope that Israel will be victorious in this war against terrorism. With him I discussed about my upcoming film 'Tejas' and India's self-reliant fighter aircraft Tejas. @IsraelinIndia," the 36-year-old actor added.
In a follow-up post, Ranaut shared the video of her interaction with Gilon. "My heart goes out to Israel. Our hearts are bleeding too. Here's my conversation with Israel's ambassador to Bharat Naor Gilon," she wrote.
The Israeli ambassador thanked the actor for her support to his country. "It was lovely meeting @KanganaTeam who was in Delhi for her movie premiere & visited our embassy to extend her support to @Israel. I expressed our heartfelt gratitude not only to her but also to PM @narendramodi ji and our Indian friends for their unwavering support in our shared battle against terrorism," Gilon wrote on his official X account.
ALSO READ: Rajkummar Rao to be appointed as Election Commission's national icon | Deets inside
What's next for Kangana Ranaut?
Kangana was last seen in 'Chandramukhi 2' alongside Raghava Lawrence. Directed by P Vasu, the Tamil horror comedy flick portrays Kangana as a dancer in the king's court known for her beauty and dancing prowess, while Raghava takes on the role of King Vettaiyan Raja. 
Next, she will be seen in 'Tejas'. Directed by Sarbesh Mevara, the film is inspired by an Indian Air Force pilot, Tejas Gill, who aims to inspire a deep sense of pride in courageous soldiers who tirelessly defend our nation, confronting numerous challenges along the way. It is slated for its release on October 27. She also has 'Emergency' in her kitty. The film features Kangana as former Indian Prime Minister Indira Gandhi, and will be released in November 2023.
ALSO READ: Kangana Ranaut SLAMS Bollywood for 'maintaining friendships' with Pakistan and China artists
(With PTI inputs)




Courtesy – www.indiatvnews.com