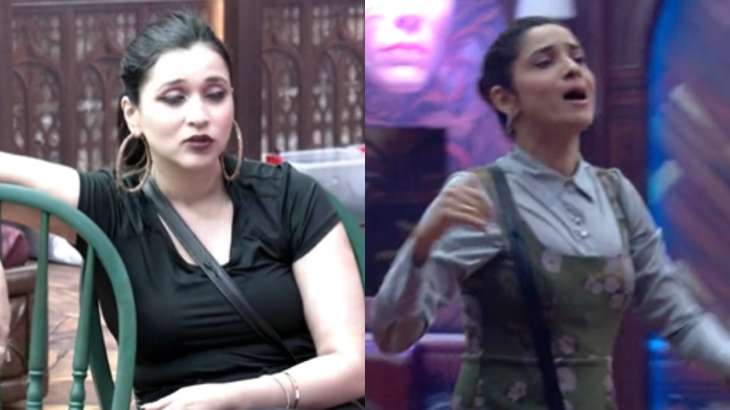 Mannara Chopra and Ankita Lokhande are hogging headlines with their stint in Bigg Boss 17. In the latest episode, the duo got into a verbal spat over house duties. While Mannara accused Ankita of dominating the house, the TV star called Mannara a 'bacchi.' 
In the now-viral video, Mannara can be seen seated with Jigna Vora, Navid Sole, Khaanzaadi, and Rinku Dhawan. Ankita arrives and asks everyone to clean the slab. She mentions Rinku and Jigna as 'sincere' and calls Mannara a 'bacchi'. Ankita clarifies that she's just giving suggestions and not forcing anything on anyone. The term 'bacchi' triggers Mannara and she ends up fighting back and warns Jigna and Rinku. 
Later, Mannara calls Ankita cheap and arrogant. However, Khanzaadi asks Mannara to calm down as Ankita does not call her bacchi in the wrong sense. As the episode progresses, Ankita tries to resolve the misunderstanding and initiate a conversation with Mannara, who ends up calling her cunning. 
Mannara Chopra calls Ankita Lokhande cunning
Mannara further tries to discuss the fight with Munawar, however, the comedian advises her to sort out things with Ankita. "According to me, you are a very cunning person and you are a very dominant person," said Mannara. "Aapke baare mein Isha chhod ke sari ladkiyan aapke baare mein yahi sochti hai," she added. Mannara further argues that Ankita cannot call her a 'bacchi' in every conversation. 
In another frame, Ankita Lokhande was seen discussing the same with Isha Malviya.
Watch the video here: 
Bigg Boss 17 contestants
Munawar Faruqui, Ankita Lokhande, Vicky Jain, Aishwarya Sharma, Neil Bhat, Isha Malviya, Mannara Chopra, Navid Sole, Anurag Dobhal, Sana Raees Khan, Jigna Vora, Soniya Bansal, Khanzaadi, Sunny Arya, Rinku Dhawan, Arun Mashettey, and Abhishek Kumar.
Also Read: Bigg Boss 17: TV producer slams Ankita Lokhande for showing fake love towards TV show




Courtesy – www.indiatvnews.com