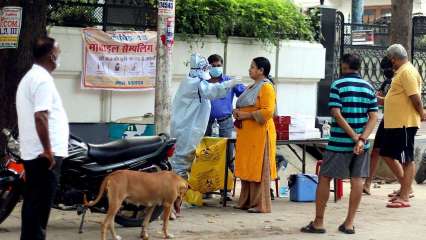 Uttar Pradesh has done a great job in controlling the coronavirus and many global agencies including the World Health Organization (WHO) have praised the state for this. Now, the pace of infection has slowed down in the state and due to the continuous efforts, life is now becoming normal.
As many as 2,17,846 samples were tested in UP in the last 24 hours and not a single new case of infection was found in 64 districts. Similarly, only single-digit corona case reports have been reported in 11 districts. At present, the number of active COVID-19 cases in the state has been reduced to 214.
At the same time, there is not a single corona patient in Aligarh, Amroha, Ayodhya, Baghpat, Ballia, Balrampur, Banda, Basti, Bahraich, Bhadohi, Bijnor, Chandauli, Chitrakoot, Deoria, Etah, Fatehpur, Ghazipur, Gonda, Hamirpur, Hapur, Hardoi, Hathras, Kaushambi, Lalitpur, Mahoba, Muzaffarnagar, Pilibhit, Rampur, Shamli, Siddharth Nagar and Sonbhadra districts. These districts have now become coronavirus free.
So far 7,40,38,991 Covid samples have been tested in Uttar Pradesh. In the last 24 hours, 16 new patients were confirmed in the testing, while 28 patients were discharged after recovering during this period. So far, 16,86,417 residents of the state have become healthy after getting free from corona infection.
While reviewing the COVID-19 situation with Team-9 on Wednesday, Chief Minister Yogi Adityanath said that the mantra of aggressive tracing, testing and quick treatment is yielding good results. To improve this situation, all necessary arrangements should be made according to the policy of trace, test and treat. Reviewing the availability of the COVID-19 vaccine, the Chief Minister has expressed satisfaction over the vaccination process.
The Chief Minister was told that on the previous day, over 14.51 lakh people got the protection cover of the vaccine. According to the guidelines of the Government of India, more than 45 per cent of the people eligible for vaccination have received the first dose of the vaccine.
(With IANS inputs)

Courtesy – www.dnaindia.com