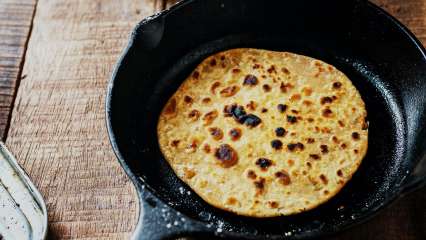 GST on Paratha: Recently, there a controversy broke out regarding the Goods and Service Tax (GST) on papad, another debate has now started regarding the tax on the paratha. The Gujarat Bench of the Authority for Advance Ruling (AAR) has ruled that paratha will attract 18% GST.
Notably, roti is under 5% GST slab, but paratha has come under the 18% slab. The Gujarat Bench of the AAR has clarified that ready-to-cook parathas will attract GST at the rate of 18%.
Vadilal Industries, a Gujarat-based company making ready to cook parathas, had argued that all types of parathas, khakhras should attract 5% GST on the lines of roti because there is a lot of similarity between chapati, roti and parathas. From the process of making them to using them, the process is exactly the same. To give weight to his argument, Vadilal gave definitions of the word 'paratha' from several English dictionaries and Wikipedia, as it is not defined under them in the GST laws and rules.
After listening to Vadilal's arguments, the Gujarat AAR said that khakhra, a plain roti, would have been cooked and did not need to be cooked again to be eaten, and it was ready to eat. On the other hand, the 'paratha' supplied by the company is not only different from them but requires further processing to make it edible. This means that roti is ready to eat while paratha is ready to cook.
The authority said that Vadilal has written in the instructions written on his packets to heat it on a medium flame for 3 to 4 minutes. Also, while heating the paratha in it, add oil or butter to make it more tasty and crisp. The authority has also clarified the difference between roti and paratha on the basis of the composition of the flour. The quantity of flour in paratha varies from 36 to 62 per cent. 
Earlier, the Karnataka Authority of AAR had also ruled that the paratha would attract 18%.
Some time ago, in the controversy regarding papad, the Gujarat AAR made a new announcement, saying that there will be no GST on papad. That is, the tax on papad will be zero. The bench has observed that earlier papads were made by hand and had a round shape. Now papads are made in different types and sizes. The bench said that as far as making different papads is concerned, it is the same in terms of raw material, method of manufacture and use is also the same, hence papad will be kept in the category of HSN 19059040 and it will attract any GST.

Courtesy – www.dnaindia.com