[ad_1]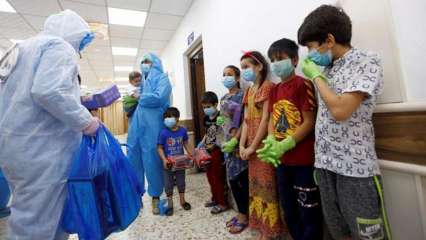 Amid the decline in COVID-19 cases across the country, the number of coronavirus cases has recording a steady increase among children below 10 years,  according to data available with the Empowered Group-1 (EG-1). It is to be noted that EG-1 is tasked with formulating the Covid emergency strategy of the country.
According to the data, the share of children in the total active Covid-19 cases has jumped from 2.80% in March this year to 7.04% in August. This means that about of every 100 active Covid cases, around seven are of children.
Experts, however, said that it would not be correct to term the "marginal shift" towards children as "dramatic" as the number of COVID-19 cases in children could be rising due to reduced vulnerability of adults to the virus.
The data was presented at a meeting of the EG-1 — headed by NITI Aayog member V K Paul — that had officials from different ministries in attendance, including the Ministry of Health and Family Welfare.
Out of 18 states and Union Territories, in August, Covid-19 cases among children were the highest in Mizoram (16.48% of total active cases) and the lowest in Delhi (2.25%). Eight states — Mizoram (16.48%), Meghalaya (9.35%), Manipur (8.74%), Kerala (8.62%), Andaman and Nicobar Islands (8.2%), Sikkim (8.02%), Dadra and Nagar Haveli (7.69%) and Arunachal Pradesh (7.38%) — recorded a higher proportion of COVID-19 children than the national average of 7.04%.
The states where a lower proportion of COVID-19 was recorded than the national average for August were Puducherry (6.95%), Goa (6.86%), Nagaland (5.48%), Assam (5.04%), Karnataka (4.59%), Andhra Pradesh (4.53%), Odisha (4.18%), Maharashtra (4.08%), Tripura (3.54%) and Delhi (2.25%).
"The proportion of children getting admitted is higher than before. It is mainly because of two reasons. First, there is more awareness and alertness; second, vulnerability might have also increased proportionately," a quote told Indian Express.
[ad_2]
Courtesy – www.dnaindia.com